Shadow Crusade: An Epic Dark Fantasy Romance (Primordials of Shadowthorn Book 1)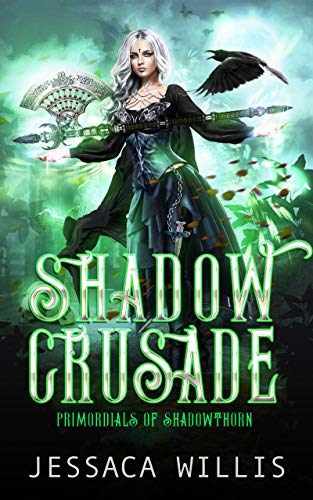 Shadow Crusade: An Epic Dark Fantasy Romance (Primordials of Shadowthorn Book 1)
by Jessaca Willis

Demons chase her... But this badass huntress is ready to fight back!

When horrifying monsters kill Halira's and Dimitri's families, they join the Shadow Crusade, a legion of warriors tasked with destroying demon-kind. Together, they'll avenge their loved ones, and perhaps find some small amount of comfort in having each other for the journey.

But some horrors can't be escaped...

One in particular—the roguish half-demon responsible for killing Halira's parents—stalks her to the Crusader's camp. She assumes he means to finish the massacre he started, but his gentle eyes tell another story, one Halira can't begin to understand.

On top of learning that demons might not be what they seem, Halira soon discovers a forgotten magic, one that could drive a wedge between her and Dimitri, and threaten the very survival of the realm.

Will Halira be the savior her country needs? Or will the allure of dark forces thrust her into the shadows?

Shadow Crusade is the first in a gothic, high fantasy romance series with a badass demon huntress, Lovecraftian immortal creatures, epic world-building, and an enemies-to-lovers romance love triangle. If you enjoyed books by Leigh Bardugo, Elise Kova, Jennifer L. Armentrout, and Camille Longley, then you'll devour Shadow Crusade!

Start reading Shadow Crusade now!