You Did What! A Christian Novel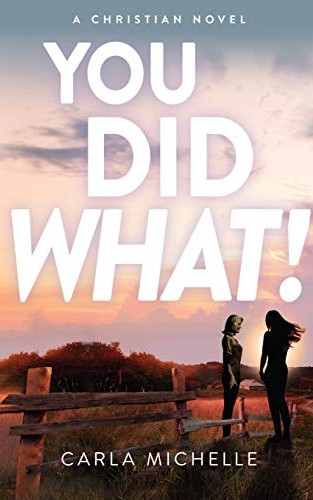 You Did What! A Christian Novel
by Carla Michelle

A Christian fiction with: humor and entertainment, drama & romance, fire and rescue, community faith, family, and more...

"I take it, Scooter is a child."…"Oh. Yes. He's Matt's son."..."I see. So, you don't like Matt at all?"..."Nana, you know I'm seeing Kevin." Patricia knew her instincts were right on target. Time to move things along.

"Nana, what have you done?" Lexi took a deep breath and opened the door. "Scooter! What are you guys doing here…and with a toolbox?"

This is what he wanted his son to learn..."It is amazing what we can do when we all come together, isn't it?"..."Yes, it is."

When the rescued victim was reunited with his family, Lexi felt a small sense of understanding as to why Matt became a firefighter.

You Did What: A Christian fiction novel. It's entertaining, funny, uplifting, contemporary, realistic, inspirational, and encouraging. It has humor, community, family, farm life, romance, trials, and temptations. You'll meet lovable and spirited characters, see beautiful settings, admire the strong family bond, and fall in love with the town and those who live there.

Lexi's nana, Patricia, falls and in rushes the handsome fireman. Patricia notices a look between her granddaughter and Matt, the new fire chief. After further investigation, Patricia takes every opportunity to get them together, even though Lexi's seeing Kevin. Matt's drawn to Lexi, but disappointed to learn she's seeing someone.

A frustrated Lexi needs a distraction. She goes to the park where the sweetest boy, Scooter, literally runs into her, and he just happens to be Matt's son. Lexi instantly bonds with Scooter. Watching Lexi with his son only fuels Matt's emotions, and begins a beautiful friendship.

Patricia continues to push Matt and Lexi into situations forcing them to spend time together. As they do, their friendship grows and their attraction becomes clear, as does Lexi's determination to label it as admiration.

This story will make you laugh, smile, and bring a slight tear to your eye as you watch this family and community interact. Patricia is a lively character, who you'll love or find annoying, maybe both. She'll definitely make you laugh, and her relationship with her granddaughter is one of a kind.

Lexi must face her own worst enemy, herself, and decide which path to take. Can Matt show her that passion and safe don't have to be opposites? Lexi uses her Christian faith to help her along her way. Will she choose to stay with Kevin, will she listen to her family and friends, or better yet will she listen to her heart.

You Did What is Christian fiction with some romance thrown in, yet, the characters' personalities are a combination of the amazing people I've met. The scenes are all fiction with bits of reality thrown in to make it as realistic as possible. You may think you recognize someplace, someone, or even some incident. This is intentional even though the story isn't based on any one person or place (fiction). The characters, settings, and the scenes are set up so that everyone can relate to some part of the story.

I hope you enjoy You Did What: A Christian Novel. May it encourage and inspire you to love your family and community, strengthen your faith, and inspire you to be true to yourself. Cry when you need to. Laugh openly. Smile as much as possible. Be sure you're going the direction you want to go. Even when life isn't at its best, you'll be able to smile, knowing it's going to be alright if you stay on the path you know is best. Happy reading.