Year Round Solar Greenhouse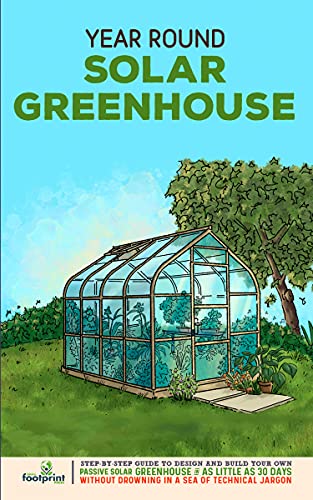 Year Round Solar Greenhouse
by Small Footprint Press

How to design and build your very own passive solar greenhouse — even if you're completely new to the greenhouse world
If you're thinking about exploring the world of passive solar greenhouses... think no more. It's time to make it happen!
'But it's probably too complicated!'
'I'm not experienced enough to take on something like this!'
'I just wouldn't know where to start!'
These are just a few of the concerns that keep DIY folk from having a go at designing and building their own solar greenhouses.
And it's probably what's holding you back, too.
But as daunting as it may seem, the truth is that it's all much simpler than you think.
In fact, you'll be happy to know that there is no reason why you can't be enjoying delicious home-grown fruit and vegetables, year round, starting just a month from today.
All you need is a clear guide to help you navigate this exciting new venture!
In Year Round Solar Greenhouse , you will discover:
Exactly what a passive solar greenhouse is, how it works, and the benefits of growing fruit and vegetables in this type of greenhouse
The 4 elements that can make or break your passive solar greenhouse
How to find out exactly which climate you should be looking to mimic, based on the plants you're looking to grow
How to make decisions about your greenhouse's size and shape based on your budget and space available
The different types of foundation you can use for your greenhouse (and in which cases you may not even need one at all!)
How to use insulation efficiently, and at which point adding more insulation adds unnecessary costs without any added benefits
The best glazing materials you can use to maximize light, and how to achieve the perfect balance between light transmission and insulation
The different ways of ventilating your greenhouse, depending on your budget and needs
How to control the climate in your greenhouse, no matter how cold or hot it gets outside
Why water is a great (and affordable!) solution for regulating temperature in your greenhouse
What a 'climate battery' is, and how you can use it to create a healthy and stable environment for your plants
A step-by-step construction process outline (with images!) to help guide you as you build your passive solar greenhouse
And much more.

By demystifying the passive solar greenhouse and explaining the whys and hows behind its design, you will be given all the tools and information you need to get started on your dream of sustainably-grown fruit and vegetables, right in your backyard.
And unlike most resources out there, Year Round Solar Greenhouse will not leave you feeling overwhelmed or frustrated.
So no more scratching your head trying to understand instructions that looks like it's been taken straight out of an engineering student's textbook.
Just clear, easy-to-understand information and advice that every greenhouse newbie can apply.
If you want to gain the confidence you need to easily design and build the passive solar greenhouse of your dreams, then scroll up and click the "Add to Cart" button right now.