Wizard (The Mage Saga Book 1)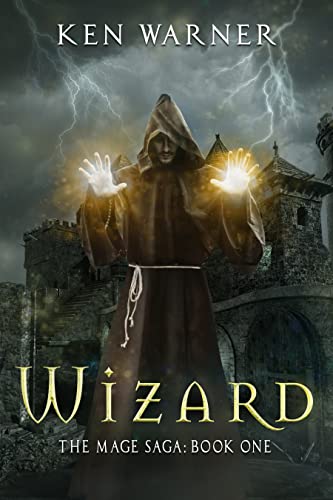 Wizard (The Mage Saga Book 1)
by Ken Warner

Necromancy has been forbidden in the Five Kingdoms for centuries, its secrets erased from existence... until now. High Prince Henry's dark mage, Dredmort, has discovered a mythical artifact that will provide him with the power to unleash an ancient evil not seen in Anoria for centuries.

Khaldun lost his parents to the plague when he was only a child. The wayfarer sorcerer, Nomad, has raised him and trained him to be a wizard like his father. He's reached an age where most mages would go off to the university to continue their studies, but they won't admit him because he's a wayfarer. Living in the shadow of his father's legacy, Khaldun longs to prove himself; when the opportunity arises, will he be equal to the task?

Mira grew up with the wayfarers, but her mother sent her to a faraway holding to live with her father many years ago. But she despised the constraints of the highborn life, and yearned for the freedom of the wayfarers. Older now, she's chosen to return to the troupe, immediately rekindling her relationship with Khaldun. Although Mira's also a mage, her powers have taken a strange turn--making her a target for the high prince.

But the very night that Mira returns, their world is turned upside down. When soldiers pursue a rogue messenger through their camp, Khaldun and Mira find themselves drawn into a conflict that could forever alter the future of the continent. Henry is now poised to plunge Anoria into darkness and despair; can Khaldun and Mira stop him before it's too late?

★★★★★ "Fast paced and gripping. Lots of twists and turns."

Wizard is the first book in the Mage Saga, an epic fantasy series. If you like sword-and-sorcery fantasy, filled with magic and mystery, adventure and suspense, then The Mage Saga will keep you on the edge of your seat, wanting more!

Buy the first book today!