Winning His Vote: An Enemies to Lovers MM Romance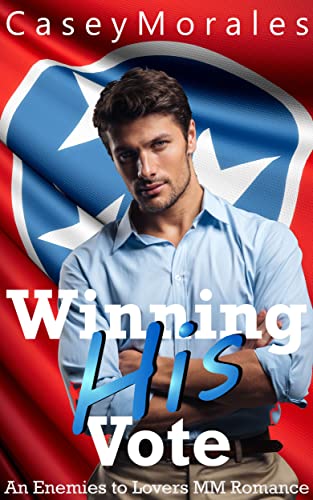 Winning His Vote: An Enemies to Lovers MM Romance
by Casey Morales

David is a cocky Congressman. Joe is a handsome hack hired to dig up dirt. When these to clash, the campaign trail gets steamy!
If you like snarky humor and good, old-fashioned, cat-and-mouse love stories, you'll love Winning His Vote!

Joe is a campaign manager who just helped elect the first Latino Mayor of Nashville. He was riding victory's high when a call came from the state party chair inviting him to join a gubernatorial race, his first statewide campaign. This was his chance to step into the big leagues, and he couldn't wait.
David is former Navy SEAL, now popular Congressman representing Middle Tennessee–and candidate for Governor. He's smart, suave, sexy–and just cocky enough to make Joe's blood boil.

Along the campaign trail, Joe catches glimpses of the man beneath the cocky mask. Then the campaign takes an unexpected turn, and the pair are forced to work closer than ever.

And that's when . . .

Winning His Vote is a classic enemies-to-lovers tale steeped in the heat of political battle.
What do readers say about Winning His Vote?

★★★★★ ". . . storyline is fresh, interesting and witty."

★★★★★ "I hate politics, but I loved this story!"

★★★★★ "What an emotional rollercoaster . . ."

★★★★★ ". . . heartwarming story of believing in each other . . ."

★★★★★ ". . . my heart melted . . .