War of the Damned Boxed Set (Books 1-8)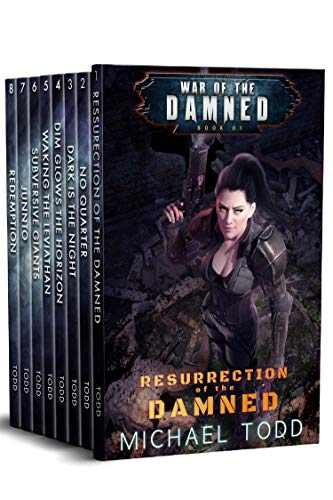 War of the Damned Boxed Set (Books 1-8)
by Michael Todd et al
The War of the Damned is upon us, so be careful who you follow. It might be the last decision you ever make.
Grab the entire series in one complete boxed set today! All 8 books are included!
Resurrection of the Damned:
Three months ago there was a demon invasion. Due to that, the world has been dealing with changes in just who the enemy really is.
While old rules are thrown aside.
The mercenary named Katie (or KatieDora by some) is trying to take a much-needed vacation.
Unfortunately, both friends and foes want her in the worst possible way.
Katie's Killers are facing a new reality, one where they are needed more because the world's eyes have just been uncovered.
Sometimes it just doesn't pay to get up in the morning.
No Quarter:
The rules have changed.
Now the Damned can go on vacation, and even hook up. Without Pandora near him, can Calvin get a little action in Cabo?
Unfortunately, the general has a different demand of Katie coming from a whole industry.
Requested to be in New York, Katie is working a side job or two.
Her mercenary skills are useful, and profitable, for other types of hard jobs.
And this time, the Damned can help a child.
There will be hell to pay when Katie and Pandora come calling, with no quarter for the demons.
Dark is the Night:
This time it's about money.
Well, some of it is about money. How is a Damned going to pay for her condo and keep up with the Joneses?
Still in New York, Katie is working on creating an additional base for herself and her team as Pandora contemplates how she can mess up Calvin's love life.
What will happen when Katie meets the woman who means the most to her?
And what is Calvin going to do, since the gang in Mexico is not giving up?Dark is the night when the heroes come out to play.
Dim Glows the Horizon:
It's all about a good time.
Katie has the ability and desire to see Brock again, and show him and his guys agood time.
Will that include any special time for the two of them? (Pandora hopes so).
That stranger left a message about a sword and Armor... But is Pandora willing to help or does she even know what he was talking about?
Someone is stalking Calvin's girlfriend. He has to ask a couple of humans he respects for a little help—even if they won't remember who he is.
Even in the middle of a war, humans will always want some hope for the future.
Plus:
Waking the Leviathan
Subversive Giants
Juntto
Redemption
" *****Be warned... very addictive!" - Torn Asunder - Book 01 - Protected by the Damned.
" *****A story with kick-ass heroes and characters written where you feel like you are part of their crew stuck in a story that you has you entertained from page 1. Katie and team are a lot of fun to read about. Definitely a different take on Demons." Lisa M. Frett - Torn Asunder - Book 01 - Protected by the Damned.
---
NOTE: This book contains cursing. Perhaps humorous cursing, but cursing nonetheless. If this offends you, I suggest you don't read this book.