Vampyres Of Hollywood Vol. 2-3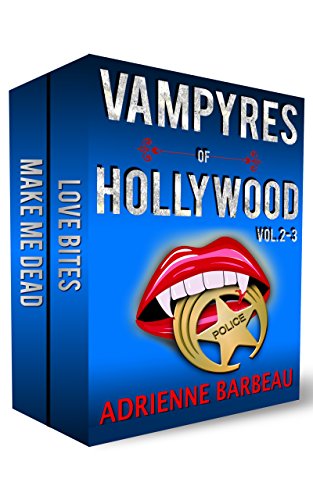 Vampyres Of Hollywood Vol. 2-3
by Adrienne Barbeau

MEET THE ULTIMATE FEMALE SLEUTH!
Ovsanna Moore has no fear, never loses a fight, and always, always says what she thinks—very wittily too. Vampyres are like that. You learn a lot in 450 years, though not necessarily your way around a murder investigation. Due to an extremely hot cop boy friend—and some nasty supernatural murders—she's all over this new skill, and a good thing too. Only a few things can really threaten a vampyre, and they're all coming at her at once, including some strange and tender feelings she's kind of forgotten—involving that mysterious thing humans call love.

WHO'LL LOVE THESE:
*Fans of TRUE BLOOD and Charlaine Harris's Southern Vampire Mysteries, J.D. Robb's "In Death" series, Ann Charles' humorous Deadwood series, and Kay Hooper's psychic mysteries.
*Fans of witty couple mysteries like Dennis Lehane's Patrick Kenzie and Angie Gennaro series.
*Paranormal and vampire fans, especially those fond of Christopher Moore, Chelsea Quinn Yarbro, George R.R. Martin's FEVRE DREAM, and THE HISTORIAN by Elizabeth Kostova.
*Anyone who likes witty mysteries with a hint of the police procedural about them.

LOVE BITES

Detective Peter King and movie star Ovsanna Moore are the sexiest tongue-in-cheek crime-solving duo since MOONLIGHTING hit the air waves in the '80s. But they may remind you more of TRUE BLOOD's Sookie and Eric than Maddie and David—because one of them's a vampyre. And like Sookie's Bon Temps, their Los Angeles has its fair share of shapeshifting sometime-humans.

Here, they team up in an action-packed mystery, a sly satire, and a lush love story, spiced and seasoned with paranormal characters that the author manages to turn into metaphors for the monsters we all encounter on a daily basis. (There be werewolves out there! We all know that. And wouldn't you know, the most ruthless ones are in Hollywood.)

MAKE ME DEAD

As always in a Vampyres of Hollywood mystery, the biting wit is sharper than a nip from a passing vampyre—in a word,humor, wit, and satire are what this engaging series is really all about.

Nobody's better than Barbeau at skewering the foibles of Hollywood and its self-involved denizens, and nobody's got a smarter mouth than her movie star heroine, vampire Ovsanna Moore, this time in New Orleans for a horror convention.

Traveling with Ovsanna is her human true love, hot LAPD Detective Peter King, Peter's snake-dancing neighbor Susie Q, and the detective's memorabilia-selling mom. But unbeknownst to the quartet, someone else is with them—someone from the past who can be extremely dangerous. Even to Ovsanna, and hardly anything is!

Part comic mystery, part police procedural, a little bit supernatural, paranormal, and cccult (with a dash of old-fashioned vampyre romance), MAKE ME DEAD is guaranteed to make you laugh out loud—more than once.