Vacation Rental Secrets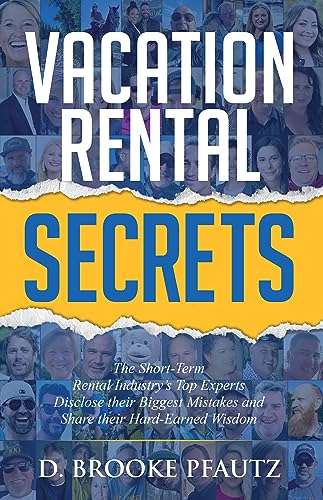 Vacation Rental Secrets
by D. Brooke Pfautz

In this captivating collection, we've gathered the wisdom of 50 seasoned professionals who have left no stone unturned in the world of short-term vacation rentals.
Unlock the secrets of success as these industry pioneers candidly reveal their top 10 mistakes, offering invaluable lessons from their own journeys. From navigating unexpected challenges to overcoming hurdles and achieving remarkable growth, the individuals featured in this book offer a treasure trove of knowledge for aspiring entrepreneurs, property owners, and anyone seeking to thrive in the dynamic vacation rental industry.
Embark on a transformative journey and learn from the experiences of the very best, as their stories inspire and empower you to avoid pitfalls and chart your own path to success. The industry's ultimate guide to turning mistakes into triumphs, "Vacation Rental Secrets" is a must-read for those ready to embark on their own short-term rental adventure.
The wealth of information shared by industry leaders is unparalleled.
Thank you to: Ryan Dame, Robin Craigan, Ginger Harrelson, Aaron Linfoot, Danna Kittell, Travis Wilburn, Fred Cercena, Simon Lehmann, Tom Goodwin, Steve Trover, Jennifer Mucha, Sarah Bradford, Brian Olson, Alex Husner, Justin Ford, Jed Stevens, Tony Cappaert, Paul Becker, Mike Harrington, Thor Thoreson, Christina Thoreson, Terry Whyte, Lauren Madewell, Michael Pedenko, James Mannings, Eric Thibodeaux, Dennis Goedheid, Valerie Hawkins, Adam Norris, Clark Twiddy, Andrew Pokrzywinski, Koen Roelens, CJ Stam III, Steve Taggert, Valerie Gangas, Erin Lenhardt, Andy Meddick, Dustin Abney, Maureen Regan, Debbie Lipscomb, Kirsten King, Lino Maldonado, Matt Durrette, Kevin Jones, Cheryl Lantz, Leslie Anne Morris, Jason Sprenkle, Heather Bayer, Jodi Taylor Refosco, David Angotti, Elaine Stitcher, Lance Stitcher, and Steve Schwab.
Without their contributions, the book wouldn't exist.