TWO FEET IN: LESSONS FROM AN ALL-IN LIFE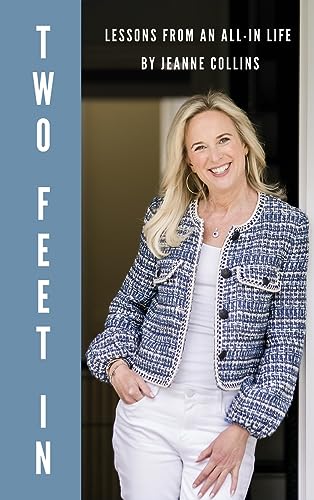 TWO FEET IN: LESSONS FROM AN ALL-IN LIFE
by JEANNE COLLINS

What do you do when you feel like the ground you are standing on is crumbling?
Jeanne Collins wasn't always living with two feet in—but now she wants to share how she harnessed an abundance mindset to build the life she always wanted.
In this memoir, Jeanne proves her mission statement: success requires perseverance and vulnerability. From the trials of childhood to the rush of romance; from the crush of heartbreak to the nervous excitement of two major pivots in her career—readers will relate to Jeanne's honest and heartfelt insights on growing up, motherhood, love, and, yes, interior design.

While she's now found the balance and energy she long sought, it hasn't always been easy. This is a story about overcoming an internal dialogue clouded by doubt and laying the foundation for a better future. A good life isn't so different from a good home, after all—with skillful framing and mindful finishes, a holistic environment can be fostered inside and out.
In this book, you will learn:
How to be the designer of your own life.
How to live an all-in life and trust your decisions.
How to put life/work balance into your life.
How to make yourself a priority.
How to incorporate mindset into your life to have greater inner peace and happiness.

With heartfelt insights and hard-won lessons, Jeanne's story is infused with a sense of love, abundance and hope. Jeanne's philosophy strives to be one with the universe while staying grounded in what we can all control: trusting ourselves and committing to our personal blueprints. Hence feet, two of them in particular, planted firmly as the inspired designers of our own lives. To find out more about her journey, grab this book today!

ABOUT THE AUTHOR
Jeanne Collins lives in New Canaan, CT with her teenage daughter and two dogs. She is the founder and principal designer of the award-winning interior design firm, JerMar Designs. Two Feet In is Collins' first book and was written with the goal of inspiring more people to live life to the fullest. This mission to encourage people to live their best lives is integral to everything Collins does, from her work creating sanctuaries for her interior design clients, to mentoring women in business, she encourages us all to go for what we want with "two feet in."