Tubby Dubonnet Mysteries Vol 5-6 (The Tubby Dubonnet Series)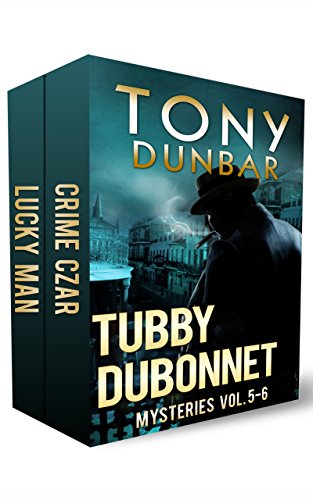 Tubby Dubonnet Mysteries Vol 5-6 (The Tubby Dubonnet Series)
by Tony Dunbar
The FIFTH and SIXTH funny, offbeat, and surprising legal thrillers in the Tubby Dubonnet series.
CORRUPTION, MURDER, AND A REALLY GREAT PO'BOY…
"Take one cup of Raymond Chandler, one cup of Tennessee Williams, add a quart of salty humor, and you will get... Dunbar's crazy mixture of crime and offbeat comedy." -The Baltimore Sun

A New Orleans lawyer who'd rather eat, drink, and swap stories than get caught in court, Tubby Dubonnet, cleaving faithfully to his guiding principles "Never screw a client and never lie to the judge," manages, in his own laconic fashion, to right many of the wrongs that beset his clients. In these late-series books, he's experiencing the pride and satisfaction of new grandparenthood. And he's taken on some additional civic duties, agreeing to co-chair the reelection campaign of his good friend, Judge Hughes.
But in Tony Dunbar's books, New Orleans is The Big Sleazy squared. No one is safe, especially from their elected officials. Even if they are an elected official.
Half the fun of a Tubby Dubonnet book is watching his sly creator fit together a plethora of fascinating yet seemingly unrelated jigsaw pieces to form a picture you never saw coming. And the other half is hanging out with Tubby and his crew of eccentrics, sleazeballs, goofballs, and enticing, confusing babes in the Big Easy-to-Love. The food descriptions are no slouch either.

These are funny-hard-boiled mysteries with as many laughs as chills, because no matter how dire things get, Dunbar never loses his sense of humor:

"I think he's going to shoot us once we're out in the Gulf," Tubby whispered to the girl.
"His aura is green," she agreed.
"Dunbar has an excellent ear for dialogue … His stylish take on Big Easy lowlife is reminiscent of the best of Donald Westlake and Elmore Leonard." -Booklist

WHO WILL LIKE THESE: Fans of Tremé, softshell crab po' boys, Domilise's, the Upperline Restaurant…wait, let's start over, it's not all about the food—ok, fans of legal mysteries, (particularly Parnell Hall's Steve Winslow series and anything by Lia Matera), comic mysteries, Elmore Leonard, funny lawyer movies like My Cousin Vinny, TV shows like Ally McBeal and Night Court; and everyone's favorite New Orleans yarn, Confederacy of Dunces.
Vol. 5: CRIME CZAR
It's a city of sin. And murder is only one of them.
Tubby Dubonnet can't forget the last words that escaped an old friend's lips, and he can't get out of the way of a political campaign that's turning rough. Obsessed with the idea that a shadowy crime boss may be pulling the strings that have cost good people their lives, Tubby is entering into a test of courage with the most violent men in New Orleans. And if that weren't dangerous enough, he's just picked up the worst ally he could ever find: a beautiful prostitute gunning for revenge.
Vol. 6: LUCKY MAN
When the D.A. himself sets you up, you know you're going down…
So what if Judge Hughes shared a few special moments with Sultana Patel—why is this a matter of public interest? "The stench from that courthouse fills the city," roars D.A. Marcus Dementhe. "Those hypocritical men and women who wear the robes are filthy with deception." And Dementhe has a zany plan to snare them.

Hughes, happily, has had the good sense to hire epicurean lawyer Tubby Dubonnet, whose laconic air is belied by his zeal to protect his clients. And what a web they're ensnared in!
"raffish charm and humor"-- The New York Times