Trust No One (Mac Davis Thrillers Book 1)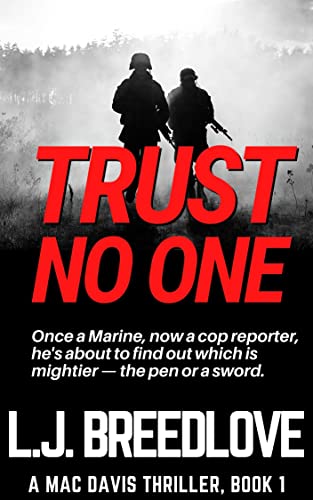 Trust No One (Mac Davis Thrillers Book 1)
by L.J. Breedlove

WHEN YOU COME FOR THE WRONG MAN

Howard Parker wants to be Secretary of Homeland Security. And he isn't going to let a bunch of Marines who were in the wrong place at the wrong time stand in his way — even if one of them is now a reporter in Seattle, his home town. What are the odds?

Former Marine Mac Davis likes being a cop reporter. He gets a regular paycheck, and no one is shooting at him. What's not to like? He'd rather be writing sports, but he took the job anyway.

Then someone tries to kill him. Roughs up his aunt. Kidnaps an old Marine buddy. And Mac is going to find out why. And then? He'll put a stop to it. One way or another. If the tools of a reporter won't get the job done? Well then, he's got other tools to use.

Book 1 in the Mac Davis thrillers featuring a Marine turned cop reporter in Seattle.