Triorion: Awakening (Triorion: The Series Book 1)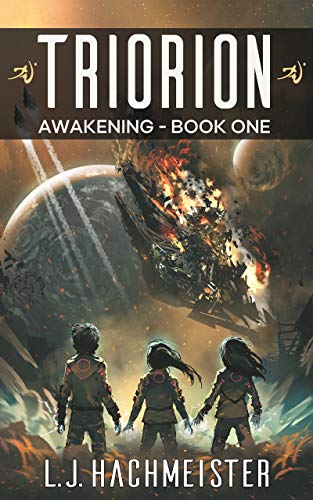 Triorion: Awakening (Triorion: The Series Book 1)
by L. J. Hachmeister
Three siblings, one terrible secret: It's not just love that binds them together, but the power of an ancient evil. And if anyone finds out, the price will be paid in more than blood.

"Triorion: Awakening" finds five-year-old triplets Jetta, Jaeia, and Jahx struggling to survive on a harsh alien planet under the thumb of their brutal owner. When the Eeclian Dominion discovers their extraordinary telepathic talents, they are coerced into military service. However, when the tide of war changes, the siblings find their persecutors at their mercy and a new and more powerful enemy at their door, eager to harness their talents for intergalactic genocide. This introduction to the "Triorion" series follows them on a journey of death and redemption that will change the Starways forever.

"Gritty and engrossing. You will be captivated by the danger, the determination, and the love of these three siblings--two sisters, one brother...one heart, one mind, and one grand adventure." --Kevin J. Anderson, New York Times bestselling author of The Dark Between the Stars.

"Hachmeister's fiction is both audacious and heartfelt, a series big in its premise and intimate in its close attention to the psychological lives of the characters." --Stant Litore, author of The Zombie Bible and Ansible.

"A gripping, almost haunting read that sticks with you long after you've put it down." --Neo Edmund, author of the Red Riding Alpha Huntress series.

Readers of fantasy, military sci fi, and space opera will love book one of this series!
Scroll up and click to buy now and jump into an emotionally gripping adventure!