Trauma Recovery for Women: A 30-Day Christian Journey for Emotional Healing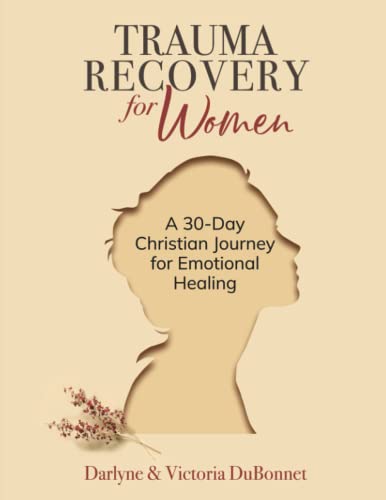 Trauma Recovery for Women: A 30-Day Christian Journey for Emotional Healing
by Darlyne and Victoria DuBonnet

★ What if you could experience DEEP EMOTIONAL HEALING...in just 30 days? ★
The problems you're facing today might be secretly rooted in wounds inflicted upon you long, long ago. That explains why you keep repeating the same negative patterns. And you're likely to stay stuck until you finally let God heal you.
Using a simple 5-step system, you'll discover how to recover from trauma:
Uncover the real source of your emotional pain…so you can finally deal with what's actually going on.
Allow God to heal the innermost part of you…so you can stop being controlled by your emotions.
Let go of any false beliefs that are holding you back…so you can step into the bright future God has already prepared for you.
Become a blessing to yourself and everyone around you…so waking up every day is something to look forward to.
Start your journey today, expecting God to move in your life. At the end of thirty days, you might not recognize the woman in the mirror. That's because Trauma Recovery for Women has the power to instantly "pull out the thorn" left by old injuries.
Many women have already found depression and anxiety relief with this easy-to-follow system. But the amazing part is this: When you finally recover from trauma, you can expect to see dramatic improvements in your physical health as well.
That's no coincidence. It's because the co-authors, Darlyne & Victoria, both began their careers focusing on physical healing. (Darlyne has been an RN for almost 40 years; Victoria is a Registered Medical Herbalist But when they saw the level of mental anguish among their Christian clients, they knew it was time to look deeper.
Drawing upon their combined decades of experience, Darlyne & Victoria share a simple yet powerful solution to total well-being in body and soul.
Includes a 30-Day Emotional Recovery Journal with guided journaling exercises to accelerate your recovery.
Also, inside the book, you'll find information on the FREE companion 30-Day Recovery Journal and their free online support group.
◆ Scroll Up to Order Now. ◆
Do you ever feel like you've experienced more than your fair share of brokenness and heartache? Do you wonder if you can ever be made whole?
I can totally relate.
If you're anything like me, you've made more than one attempt at recovery. Maybe you've worked through a 12-step program or two…or three or ten. But somehow, there's still a place deep inside that just won't seem to heal.
Darlyne and Victoria have devoted their lives to the emotional healing and physical well-being of God's children. Through decades of combined experience, they've developed a unique 5-step process that's yielded miraculous results for the many people who've visited their clinic.
Finally, God has prompted them to share their wisdom with those of us who may never be able to journey to their idyllic Canadian homestead to meet with them in person. In a world where anxiety has become an epidemic, I'm confident that Christian women seeking Christ-centered answers for depression and anxiety relief will find the help and hope they need.
If you will prayerfully ponder what's presented on these pages, then give God thirty days to do a work in your life, I think you'll be amazed at the inner transformation you'll enjoy.
You now hold in your hand a powerful, yet practical tool to help you recover from trauma, so you can finally experience emotional healing God's way.
Donna Partow
Bestselling author
Becoming the Woman God Wants Me to Be