Time of a Highlander: A Scottish Time Travel Romance (Arch Through Time Book 12)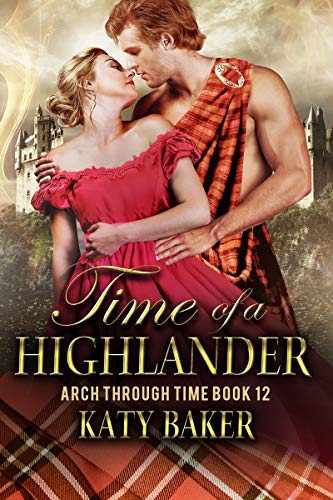 Time of a Highlander: A Scottish Time Travel Romance (Arch Through Time Book 12)
by Katy Baker

A woman thrown into the past. A Highland warrior with a dark secret. And a deadly enemy stalking them both.

Georgina Smyth's life is falling apart. Her business is going under, she's in danger of losing her home, and she's run out of ideas.

So when a strange old woman offers her a dream job, she suspects it's too good to be true. She's right. When she steps through an archway in her new workplace she is transported five hundred years into the past—and right into danger.

Blair MacAuley is a man on a mission. Having vowed to protect his clan, he is determined to guard the secrets of time. But when he rescues a woman who clearly doesn't belong, and her life is placed into his hands, he begins to wonder how much that vow will cost him.

With enemies closing in, Georgie and Blair must race to unravel a centuries old mystery if they are to stop a terrible evil and find a way to send Georgie home. But as fate pushes them ever closer, Georgie begins to realize she faces a terrible choice. Does she want to go home at all? And can she leave behind her fiery Highlander?

Time of a Highlander is the twelfth book in the Arch Through Time romance series and can be read as a standalone novel. If you love sexy highlanders, feisty heroines and sizzling passion you'll love this tale of danger, passion and true love in the Highlands of Scotland. Grab a copy now!