Tide and Tempest: A Romantic Dystopian Fantasy (Forgotten Lands)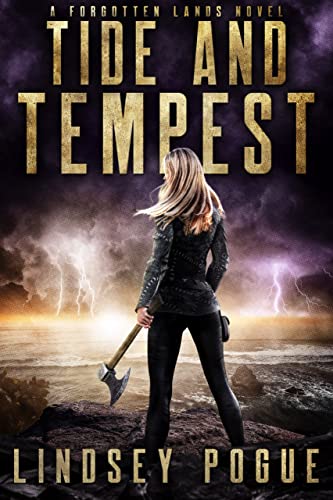 Tide and Tempest: A Romantic Dystopian Fantasy (Forgotten Lands)
by Lindsey Pogue

#1 in Nordic Myth & Legend Fantasy

An epic, standalone love story and adventure.

Forged by fire. Bound by blood. Tortured by fate.
Lightning decimates the land, but the people of Ebonpeak know there are greater threats than tempests and firestorms. Raiders pillage the coastline, destroying everything and leaving none unscathed.

Six years ago, Desolation Day stole everything from Samara—except the drive to be stronger, fight harder, and never look back. But her greatest test is yet to come. When the enemy washes ashore with the rising tides, upturning Samara's world once again, can she shed the scars of her past to save her people, or will her hatred destroy her completely?
Venture beyond the desert lands of Sagebrush and through the scorched forest in Tide and Tempest, the next standalone installment in the Forgotten Lands adventures. The perfect read for Adrienne Young (Sky in the Deep) and Tanya Bird (Kingdom of Walls) fans.

What readers are saying:
★ ★ ★ ★ ★ "Couldn't put it down...don't want it to end!"- Goodreads Reviewer
★ ★ ★ ★ ★ "Best Book of the Year!" - Amazon Reviewer
★ ★ ★ ★ ★ "Zillion stars!" - Amazon Reviewer
★ ★ ★ ★ ★ "Truly excellent!" - Goodreads Reviewer
★ ★ ★ ★ ★ "Unforgettable!" - Goodreads Reviewer

Forgotten Lands Series
Dust and Shadow
Earth and Ember
Tide and Tempest
Borne of Sand and Scorn (prequel)

OTHER FORGOTTEN WORLD SERIES
Ruined Lands Series
City of Ruin
Sea of Storms
Land of Fury