Thinking Loud, Thinking Clearly! Have A Minute?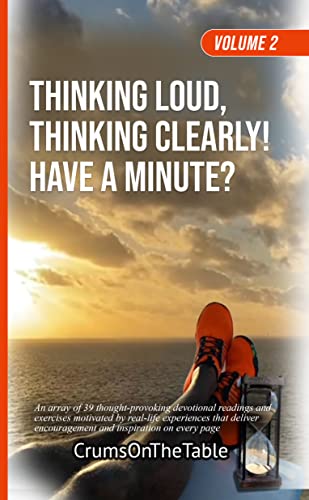 Thinking Loud, Thinking Clearly! Have A Minute?
by CrumsOn TheTable

Taking a minute out of your busy day to reflect can be challenging. However, our souls often long for the chance to connect with God's presence in our daily lives.

The second volume of Thinking Loud, Thinking Clearly! is filled with more thought-provoking stories designed for reflection to provide you with the opportunity to strengthen your spiritual relationship with God. In each real-life story, you'll meet and journey with intriguing characters while drawing guidance from their experiences and accompanying scriptures.

Whether you simply choose to reflect on the truthful words of wisdom found in each story or journal your thoughts in response to the exercises provided, you'll discover inspiration on every page.

All it takes is a minute to start. If you're seeking insight or growth, these moving stories will transform your day—and your life.