Think Out Of The Box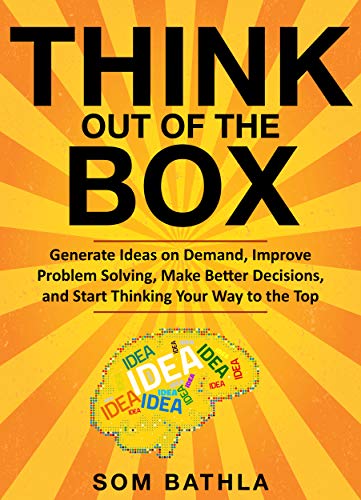 Think Out Of The Box
by Som Bathla
Think differently, become solution-centric, Use intuitive thinking to solve complex problems quickly and radically transform the way you live.
"Imagination is more important than knowledge." - Albert Einstein
Thinking out of the box is powerful way to separate average from the exceptional. It's your secret tool to attract expert insights that will empower you to make difficult decisions with speed and confidence.
Filter information overwhelm, invite creativity breakthroughs & instant understanding to solve complex challenges effortlessly
Som Bathla is an avid reader, and researcher of human psychology and behavior. He has written multiple bestselling books on how to redesign your mind by learning and thinking better and take consistent actions to achieve professional success and greater happiness in life.
Idea is modern world currency for any startup, business or for rewarding professional success.
In Think Out Of The Box, you'll be embarked on a exciting journey to understand how anyone can think smarter, quicker and more creatively by instilling right beliefs (with easy to implement techniques).
Whether you are a student, employee, professional, or running a business, discover how specifically designing your surrounding environment and practicing just a few creativity routines followed by smartest thinkers of the world can transform the way you think and predict the future.
Learn how to generate exceptional ideas in plenty (and on demand), be known as "idea person", make smarter decisions to start getting things done in less time

Understand how offering challenge triggers your mind to look for best ideas.
Understand your brain. Find neuroscience of how 'logical' left brain and 'imaginative' right brain can be used to accomplish more with less efforts.

Design a creative thinking environment, install super-quick habits to boost your creative confidence

How openness to experiences enhances brain's neuroplasticity and prompts divergent thinking
Become a creative thinker just by strengthening your creativity beliefs with Tick-Tock Exercise.
How only a few habits and routines directly release brain's creativity chemicals like dopamine, BDNF etc. and help you master the art of creative thinking.

Become an idea machine, Gain new perspective and make you mark with innovative thinking

Find how consulting non-subject experts offers more ideas (counter-intuitive approach) and produce sparks of genius
How creative thinkers like Einstein, Tesla, Archimedes used chilling out technique to invite innovative ideas and make insightful observations.
Find how a counter-intuitive multi-tasking can release creative juices
Learn specific questioning techniques that activate your brain to create a storm of ideas in no time.
This creative thinking handbook offers practical tools to get started instantly and unleash the creative potential within us all.

So, don't let you ideas blocked by your own thinking.

Get Out Of Your Own Head, Trust Your Intuition; Take Your First Step To Build Your Idea Treasure by Clicking the Buy Button