THERE ARE: Rhyming Reflections Concerning Animals' Whereabouts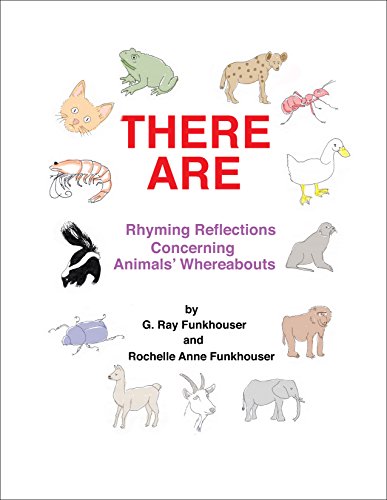 THERE ARE: Rhyming Reflections Concerning Animals' Whereabouts
by G. Ray Funkhouser et al

Who likes to rhyme? Answer: EVERYBODY. We rhyme all the time, with verse better and worse. Every day we word-play. So THERE ARE: Rhyming Reflections Concerning Animals' Whereabouts is a barrel of fun for everyone.

Did you know that THERE ARE sharks in the parks? Minks in the sinks? Whales in the pails? And where do you suppose elephants are?

With 58 different animals, 35 whimsical drawings and sketches, and 37 rhyming challenges, kids from age 4 on up will learn about animals, increase their vocabularies and give their imaginations a workout. Children, moms and dads, grandparents, aunts and uncles, one and all will have a ball fitting rhymes to this menagerie of critters.