The Voodoo Dolls Boxed Set (Books 0-3): An Urban Fantasy Adventure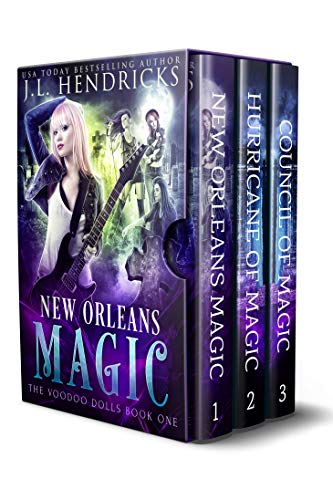 The Voodoo Dolls Boxed Set (Books 0-3): An Urban Fantasy Adventure
by J.L. Hendricks

It's Josie and the Pussycat Dolls meet New Orleans!

This action-packed boxed set is full of vampires, shifters, witches, and humans who just want to be normal and get a recording contract.

When Jenna, the lead singer of The Voodoo Dolls, learns the hard way that magic IS real, she and her three adopted sisters are thrust into the magical underbelly of The Big Easy.

Learning about vampires, wolf shifters, and witches is more than they can handle on their own. When a friend of theirs goes missing, they accept the help of the local wolf shifter pack and a sexy vampire in order to save their friend from a fate worse than death.

Grab your copy of The Voodoo Dolls boxed set and get the first 3 books along with the prequel in this set for one low price today!

New Orleans Magic, Book 1 -

Music, wolves, and vamps! Oh, my!

Two old friends from high school have appeared on their doorstep, desperate to find their missing sister. The Dolls aren't private investigators, but with the questionable help of a shady vampire, and a wolf shifter who has more than just a little allure, the Dolls risk their lives, and necks, to save the lost sister and prove to themselves the world they now live in is a force for good.

Hurricane of Magic, Book 2 -

More than a hurricane is coming...

Jenna and the Dolls are preparing for Hurricane Gertie while the vampires are preparing in a very different way.

A total of eight freshman girls from the local university go missing and the Dolls team up with Rico and his pack to find them.

Council of Magic, Book 3 -

Everyone knows that shifter DNA is dominant. So why can't Kat shift?

When a young woman comes to Kat and Jenna desperate for help with her boyfriend, they stumble upon something much bigger than just a cheating man. They find a monster - and one Rico and Damien thought they had already grappled with in the Big Easy. The creature was supposed to be dead. So what happened?

Magic's Not Real, Book 0 -

When magic IS real, what would you do to protect yourself?

Jenna and her three adopted sisters, the Voodoo Dolls, don't believe magic is real. That is until someone tries to kill Jenna using a death curse. Rico and his pack of wolf-shifters are there when it happens. They jump in to protect Jenna and the Dolls, while going after the evil that tried to kill the beautiful lead singer.