The Unbelievable Mr. Brownstone Omnibus Two (Books 7-12)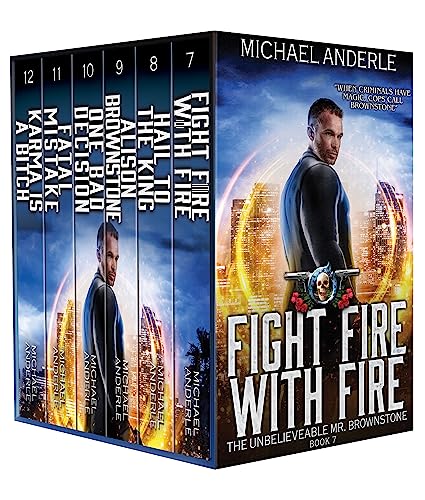 The Unbelievable Mr. Brownstone Omnibus Two (Books 7-12)
by Michael Anderle

Save that MONEY and buy the Boxed Set of The Unbelievable Mr. Brownstone books 7 – 12
(Including Fight Fire With Fire, Hail To The King, Alison Brownstone, One Bad Decision, Fatal Mistake, Karma Is A Bitch.)
Fight Fire With Fire
The Drow are back.
Unfortunately, the Drow are looking to get hold of Alison.
An order to locate the princess means they need to find and deal with Brownstone.
They will have to go through him first.
Hail To The King
Men Will Be Men
Tyler has figured out an additional way to make money off Brownstone.
But Brownstone has to agree, first.
Brownstone gets a request from his hacker support after doing a job for the Professor.
It seems she might have upset someone close to home.
Will Tyler piss off Brownstone and end the bar's neutrality, or has the Professor found someone with enough magic to take Brownstone out and asked for a favor?
Alison Brownstone
Alison is back to share summer with James.
The problem is that James' lawyer says that they are going to fight his effort to adopt her.
James has to pull in his natural proclivity to punch something until it gives in with the government.
Unfortunately for the government, James' friends have his back.
The Drow Queen makes an unexpected appearance, fighting James in the courtroom.
One Bad Decision
Shay goes to a museum and consults with the AET. Then, she doesn't come home on time.
Brownstone goes on a rampage when he learns what happens.
Using his contacts, Brownstone gets Tyler involved when he learns that Lt. Hall is in trouble.
The criminals are powerful, and clever.
It seems the hit on the Los Angeles Museum was planned far in advance.
Well, planned or not, if you come into Brownstone's area and kidnap his woman, you have a problem.
Fatal Mistake
The government is trying to take down the Council...
But they get their asses handed to them.
One of the senators wanted to play hardball from the beginning but got outvoted.
Now, the head of the task force is killed.
Will they wise up and swallow their pride to get the best?
Lt. Hall is working more closely with Shay, and admits that the kidnapping and fights and losing a man has made it hard to sleep.
Karma Is A Bitch
The Council Is Dead. Long Live the New Council.
How do you have a Council of one?
Brownstone is working to get back into a rhythm, but the last remaining Council member is seeking Brownstone.
Shay has jobs to do, but can she leave Brownstone alone without him dying?
Can Lt. Hall go back to the AET after delivering a personal beat-down without doing paperwork?
James runs across a dog (almost literally), but it disappears on him. Can he find it again, or was it just an Oriceran trick?
Because we all know, Karma can be a Bitch.
Scroll back to the top and click "Read for Free" or "Buy Now" and kick back for a fun, action-packed adventure that will have you yelling for the good guys and laughing at just how badly Brownstone can infuriate Shay, especially with his fashion sense.
And how thoroughly Shay mystifies Brownstone as she tries to uncover what makes him tick.
---
NOTE: This book contains cursing. Perhaps humorous cursing, but cursing nonetheless. If this offends you, I don't suggest reading this book.