The Tortoise Wins: Breaking the Mold of Your Stress and Busyness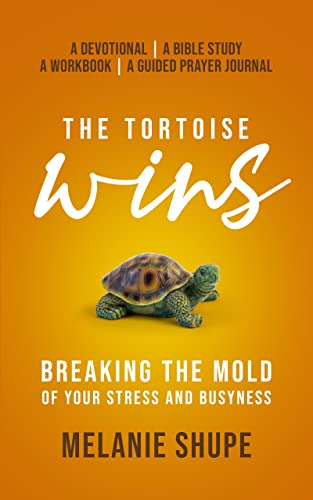 The Tortoise Wins: Breaking the Mold of Your Stress and Busyness
by Melanie Shupe

Do you ever feel like you're so burned out and stressed inside, maybe you're not a good enough Christian? Then keep reading. This is for you.
I'm Melanie, the author of this book, and my frustration was that all I heard from the Christians and Christian books around me was essentially "Trust God, that's all!"
What I needed to know was how to do that, in practical ways that could take my unique personality and circumstances into account!
But I couldn't find any books that personalized. So I figured it out myself.
This book is the result of the many hundreds of hours of research I did, and instead of the same cliche verses and messages, this book combines Scripture and psychology in a groundbreaking new way, geared solely toward personalized solutions.
Here's what The Tortoise Wins can do for you:
Hack into your own brain to discover how it uniquely interacts with Satan.
Unmask the deeper shadows lurking behind the stress you think is "ordinary".
Gain simple action steps that can enable you to live the peace you crave.
Grow spiritually with your loved ones! This book is designed to be perfect for couples, small groups, families, book clubs, and churches.
Discover what a devotional is like when it's more interactive and personalized than any other self-help book or prayer journal yet.
And that's just the start.
Now, I know you might be thinking, "Yeah, maybe that works for some people… but I've gotten advice before on how to live better, and then I don't do it! I don't even know WHY I slip out of those healthier lifestyles and mindsets — I want to be healthy! But even when I actually take action, it doesn't last."
I used to do that too. Figuring out why was part of my research.
This book is packed with psychological hacks in the form of guided journaling, with the sole goal of creating a book that doesn't just tell you to do better, but shows you how, in easy, interactive, personalized steps.
No more vague, generalized, one-size-fits-all Christian self-help books.
In this modern world where everything is optimized for maximum efficiency and usefulness, our devotionals and Bible studies deserve the same treatment.
If you're done with feeling guilty about being a burned-out Christian, and want a truly personalized and interactive devotional, then scroll up and click "Buy With 1 Click".