The Throne of Ice and Ash: A Norse Epic Fantasy Adventure (The Runewar Saga #1)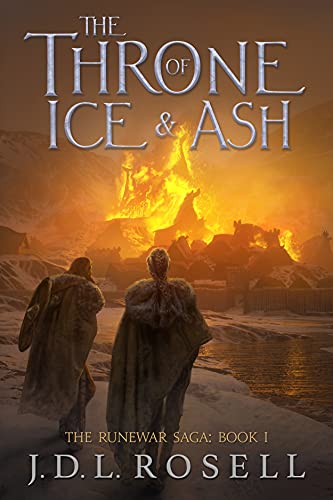 The Throne of Ice and Ash: A Norse Epic Fantasy Adventure (The Runewar Saga #1)
by J.D.L. Rosell

A throne in peril, a tragic betrayal, two heirs struggling to save their land, and a prophesied war threatening to engulf the world...

Bjorn, youngest heir to the Mad Jarl of Oakharrow, has always felt more at ease with a quill than a sword. Yet when calamity strikes his family, he must draw a blade and lead a company of warriors into the cold, deadly mountains in pursuit of a mysterious foe. Though he seeks vengeance, an ancient power stirs within him, and the whispers of prophecy beckon him toward an ominous destiny...

Aelthena, Bjorn's sister, was born with the aptitude to lead, and she's eager to prove it. But her society's rules for women, and her love for her brother, restrain her efforts to command. As she walks the fine line between ambition and virtue, enemies of both mankind and myth rise against Oakharrow's throne, and even her allies question her right to rule...

A harrowing tale of the struggle for power and the dawning heroes who rise above it, The Throne of Ice & Ash is Book 1 of the Norse high fantasy, coming of age series The Runewar Saga. Fans of A Song of Ice and Fire, The Lord of the Rings, and The Wheel of Time won't want to miss this new sweeping epic fantasy!

----------------------------------------------------------------------

PRAISE FOR THE THRONE OF ICE & ASH

⭐⭐⭐⭐⭐ "If you're a fan of George R. R. Martin's Game of Thrones, definitely check this out!!"
- Amazon review

⭐⭐⭐⭐⭐ "There is a sense of majesty and importance that is reminiscent of Tolkien's work. That is a tall comparison but it's apt... I recommend this book to all readers that enjoy the LOTR."
- Amazon review

⭐⭐⭐⭐⭐ "Ice giants + epic fantasy = glorious"
- Amazon review

⭐⭐⭐⭐⭐ "Plenty of action, adventure, mystery, drama, intrigue, twists, turns, and more!!!"
- Amazon review

----------------------------------------------------------------------

Now an international Hot New Release!
#1 Scandinavian Literature (Canada)
#1 Historical Norse & Icelandic Fiction (UK)