The Teen Anxiety Survival Guide for Girls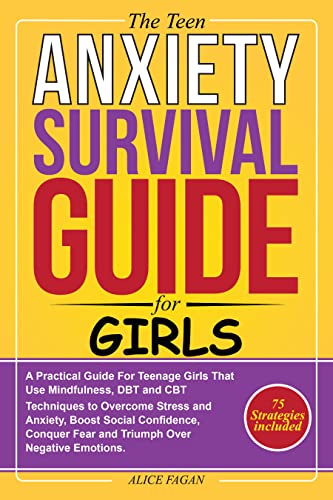 The Teen Anxiety Survival Guide for Girls
by Alice Fagan

Are you a teenage girl feeling overwhelmed by stress and anxiety?
Do you wish there was a practical guide designed specifically for you, providing effective techniques to overcome your challenges and boost your well-being?
Look no further than "The Teen Anxiety Survival Guide For Girls."
Learn how to make use of simple techniques, powerful tools, and effective methods to rid yourself of anxiety, improve your confidence, and live an overall more satisfying life.
With the use of mindfulness, DBT, CBT therapy, you will be given proper steps to take, guides to living by, and actions to follow in order to build a healthy and meaningful sense of self without anxiety, with well-regulated emotions.
Some of the many things to expect inside:
How to overcome stress and pressure governed by homework, school work, tests, exams, and overall performance anxiety.
Learn how to deal with aspects such as getting on with your peers, and engaging in healthy romantic relationships, in addition to those tough issues like bullying.
Manage the anxiety, stress, and pressure associated with changing hormones, the unknown future, and all those unwanted family problems.
Deal with pressure from your peers, in conjunction with the difficulties faced, in today's world of social media and technology.
Imagine having the ability to anchor yourself in the present moment, develop self-awareness, and challenge negative thought patterns.
Picture yourself effectively managing intense emotions, navigating relationships, and building social confidence.
With "The Teen Anxiety Survival Guide For Girls," these aspirations can become a reality.
Take control of your well-being today. Don't let stress and anxiety hold you back.
Grab your copy of "The Teen Anxiety Survival Guide For Girls" and start your path towards a happier and more empowered teenage life.