The Smartphone Addiction Restriction: It's Almost Too Late...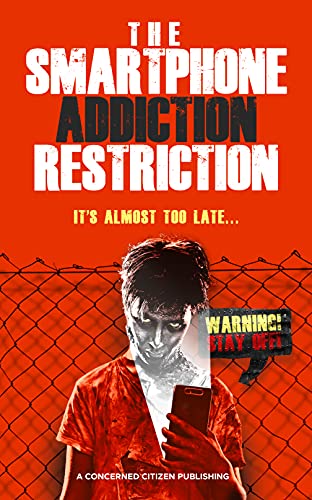 The Smartphone Addiction Restriction: It's Almost Too Late...
by A Concerned Citizen Publishing

Free Yourself and Your Children From Smartphone Addiction.

Smartphones have transformed the world with their convenience and capabilities. A single small device can replace a landline, camera, CD player, and road map—but all of this miraculous technology comes with a cost.

The dark side of smartphones is not always so obvious. Checking your phone constantly from dawn until dusk has become normalized, and most people don't realize they're trapped in a very real addiction.

Smartphones have particularly powerful effects on our children, making them shallow, depressed, and unable to think critically. They exercise less, rarely socialize, get worse grades, and have lower self-esteem. In the most severe cases, they may even take their own lives.

Despite how common this addiction is, it is possible to overcome. The Smartphone Addiction Restriction is a guide for those who see the danger of the situation. We may not be able to quit using smartphones entirely, but with this tested and proven plan, we can limit their activity to the most essential uses.

In The Smartphone Addiction Restriction, you'll learn:
The way that smartphones were designed to be not just entertaining but addictive


Why smartphone users spend over five years of their lives swiping and clicking


A multiple-choice test to determine your personal level of addiction


All the things you'll have time for when you use your cell phone less


Tips and techniques to fight the urge to reach for your cell phone when your cravings hit


A step-by-step, day-by-day plan to reduce (or eliminate) your smartphone usage

And much more!

You can't live life to the fullest while you're staring at your phone. Even though smartphones are incredibly addictive, you—and your children—can break free of this dangerous habit. When you put down your phone, you'll find yourself happier, more confident, energized, and actually smarter! On The Smartphone Addiction Restriction plan, you'll cut your screen time down by 80% and possibly even further.

Take control of your smartphone instead of letting it take control of you. Scroll up and one-click The Smartphone Addiction Restriction today!