The Secret of the River Rock: Calming Skills that Help Kids Rock at School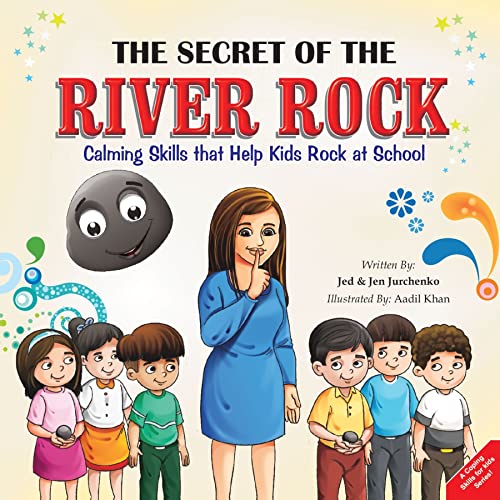 The Secret of the River Rock: Calming Skills that Help Kids Rock at School
by Jen Jurchenko

Children will have fun while learning calming skills that help kids succeed in school! This book teaches emotional regulation for kids in a fun fairytale adventure. Children will love practicing three school calm down skills as they follow along with Teacher Jen's class!
Creative Self-Regulation in the Classroom
There's a magical place where plants and animals can talk. These amazing creatures sometimes find themselves in Teacher Jen's classroom. In The Secret of the River Rock, an ordinary stone comes to life. The river rock tells how he transformed from sharp and jagged into a smooth skipping stone. Then, he shares a secret that kids can use to rock at school and skip through life—a secret he calls river rock habits! Children will love this imaginative fairytale adventure. Parents and teachers will appreciate the classroom self-regulation skills taught in the book.
Emotional regulation for kids
Kids will have a blast learning and practicing three different emotional regulation skills as they follow along with Teacher Jen's class. Children will discover how to:
Quiet their bodies and regulate their emotions by taking slow, deep breaths.
Identify and verbalize their feelings instead of acting them out.
Brighten their attitudes with healthy self-talk.
Classroom Calming Skills
Mindset matters! This is especially true in school. The classroom calming skills taught in this book will help your child identify and change difficult emotions. This way, they can focus on learning and friendships. The Secret of the River Rock was written by a therapist/social worker team, and each calming skill is time tested.
Kids and Emotions
Embedded in this story are a kid's feeling chart, four positive self-talk statements, and a deep-breathing exercise. The story is kid-tested and parent-approved. Don't just tell kids, "regulate your emotions!" Teach them how. The Secret of the River Rock will guide you every step of the way.
Self-Regulation in the Classroom
This book is designed for:
Teachers
Parents
Home school families
Grandparents
Therapists
Mentors
Everyone who desires to make a positive impact in the lives of kids.

The Secret of the River Rock is an engaging, easy-to-read, understand, and apply story with a powerful message. Self-regulation in the classroom facilitates learning and growth. To get started, scroll up and click "buy now."
A Coping Skills for Kids Series
The Secret of the River Rock is part of a coping skills for kids series. This book focuses on school calm down skills. However, each of these classroom calming skills can also easily be applied at home.
Books in this Coping Skills for Kids series include:
The Secret of the River Rock: Calming Skills that Help Kids Rock at School
Lemonade Joy: A Kid's Guide to Feeling Happier
The Bee Present: Mindfulness for Kids who Worry too Much

Look for the coping skill for kids' workbook, coming soon!