The Sanctuary House Conquest: A Supernatural Thriller of Political Intrigue, Mystery & Suspense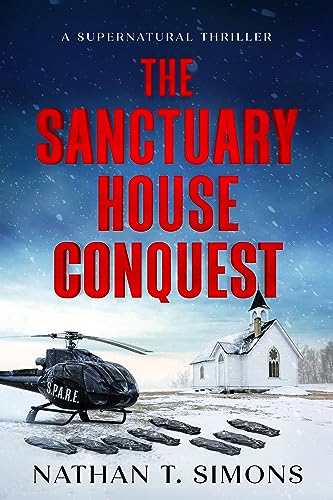 The Sanctuary House Conquest: A Supernatural Thriller of Political Intrigue, Mystery & Suspense
by Nathan T Simons

Can They Stay Alive Long Enough to Regain Their Freedom?
Get ready to embark on an electrifying journey through the pages of The Sanctuary House Conquest, a heart-pounding supernatural thriller that merges suspense, politics, and faith into an explosive narrative.
This gripping novel masterfully blends the intrigue of a political thriller with supernatural elements, delivering an enthralling story of faith to captivate readers of all backgrounds.
In a nation that once stood united, a charismatic presidential candidate finds himself dethroned in a storm of disgrace, igniting a chain of events that forever alters the course of history. As the tides of power shift, a sinister wave of oppression sweeps over the land, targeting Christians with unprecedented brutality. The hushed whispers of religious persecution evolve into a full-fledged crackdown, forcing believers to make a harrowing choice: comply with the stringent laws imposed by a tyrannical regime or face the grim consequences.
For those who refuse to conform, there is no mercy. They are rounded up, corralled like cattle, and forcibly transported to a reeducation camp nestled within the abandoned confines of a military base. Under the watchful eyes of the military, the tenets of their faith are systematically dismantled.
The air is thick with a sense of dread as the nation's Christians are vilified and branded as enemies of the state, their beliefs twisted into something unrecognizable. The weight of oppression suffocates their cries for help, and the darkness of the times threatens to swallow them whole.
Amidst this turmoil, a resilient group of believers, including the once-prominent presidential candidate, manages to stage a daring escape from the camp's clutches. Their journey to freedom is fraught with danger, as a determined military squad led by the narcissistic Major Turner closes in on them. The clash between these factions becomes a battleground where principles of faith and loyalty collide with the ruthless pursuit of power.
Fast forward ten years. A group of high school students are tasked with unearthing the truth behind the events of the Dark Days.
The narrative weaves together diverse characters, each intricately connected to the cataclysmic events that unfolded. A mother, once reeducated and stripped of her faith, rediscovers her spiritual convictions. A driven reporter, nursing a vendetta against Major Turner, inadvertently sets in motion a chain of events that could spell doom for all involved. And a high school class, driven by an insatiable hunger for truth, may hold the key to unearthing the essence of true freedom.
For fans of suspense books with a twist, The Sanctuary House Conquest is an unmissable read. It transcends genres, combining a mystery thriller, a political suspense novel, and a tale of dystopian struggle. Appealing to adults and teens alike, it beckons to lovers of end-times novels, dystopian fiction and anyone who appreciates a well-crafted novel.
With prose that crackles with tension and characters that leap off the page, is a testament to the power of Christian fiction in the realm of suspense and intrigue. It challenges readers to question their own convictions, to reflect on the fragility of freedom, and to consider the lengths they would go to protect the values they hold dear. Prepare to be swept away on a rollercoaster of emotion, as you bear witness to a battle that is not just for survival, but for the very soul of a nation.
★ Scroll Up to Buy Your Copy Today ★