The Office (Dev Haskell - Private Investigator Book 17)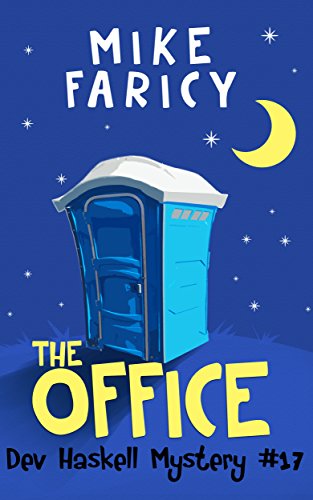 The Office (Dev Haskell - Private Investigator Book 17)
by Mike Faricy
Problem in the neighborhood?
Dev Haskell volunteers to go undercover and hide in 'the office' recording license plate numbers and cash pickups from late evening until the early morning hours.
Then there's Dev's personal life . . .
Gorgeous Sophie has all she can handle trying to train Dev, let alone his golden retriever Morton, unaware Morton may have already inserted himself where he didn't belong.
But all is not as it seems . . .
Dev ends up caught between Crime Lord Tubby Gustafson and gangster Dennis Dwyer. In the end, he has a day of reckoning thrust upon him thanks to stripper/escort/ne'er do well, Swindle Lawless. It's classic Dev.
Grab your copy NOW!
"Check out Dev Haskell's latest attempt at being nice! Fans of Carl Hiaasen, Tim Dorsey, Elmore Leonard, Tony Dunbar and Laurence Shames will love it!"
Crime Scene
"Faricy is America's hottest new writer . . ."
The Dirty Lowdown
"A cross between Carl Hiaasen and Elmore Leonard with a sprinkling of Robert B. Parker . . ."
Robert Carraher
"Even now I can't believe the way this guy can weave a tale. Just when things were about to get too grim there's a laugh out loud scene that kept me turning the pages. Run! don't walk, to pick up your copy."
The Irish Gazette
What readers are saying . . .
★★★★★ "Wow, who could resist."
★★★★★ "As usual crime and craziness ensue. . . I loved this book."
★★★★★ "These books are just funny and a damn good read."
★★★★★ "Just kick back and laugh your ass of . . ."
★★★★★ "I've read every Dev Haskell book and can't wait for the next one."
★★★★★ "A great read with just the right amount of intrigue."
★★★★★ "Good as always, love the character."
★★★★★ "Entertaining, well paced . . . and just plain enjoyable."
★★★★★ "Dev Haskell is one of my favorite characters."
★★★★★ "Great descriptive writing as usual. Looking forward to more Dev Haskell books."
★★★★★ "I couldn't put it down, so I put the coffee on at 11:00!"
Read The Office for FREE with Amazon Prime or Kindle Unlimited.