The Northern Wolf Series: Books 1-5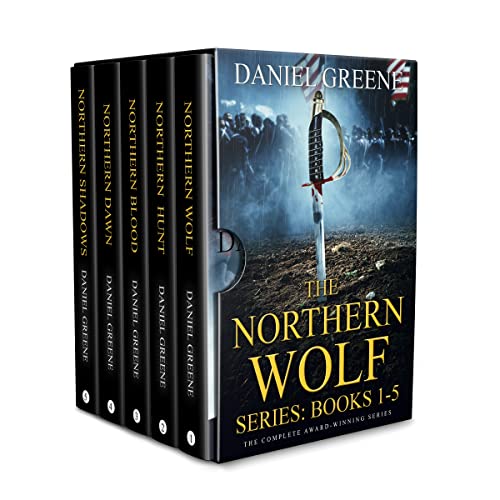 The Northern Wolf Series: Books 1-5
by Daniel Greene

The complete Northern Wolf series all in one boxset. Over 1500 pages of award-winning military historical fiction. Perfect for fans of Bernard Cornwell, Ralph Peters, Michael Shaara, Griff Hosker, and Matthew Harffy.
A broken man will be forged in the flames of war.
Johannes Wolf. Immigrant. Soldier. Unlikely Hero — Wolf's company are the kind of men that get the dirty work done needed to win the war that divided America. Ride through the American Civil War with Wolf's motley crew of daring Union raiders, and enjoy fast-paced, non-stop war fiction at the pointy end of a saber!
Northern Wolf - A maimed young man with no prospects swindles his way into the Army of the Potomac, and along with a host of green recruits is placed into the Michigan Cavalry Brigade. Riding for Gettysburg, they find themselves holding the rear of the Union line and face to face with JEB Stuart and his Invincibles.
Northern Hunt - Johannes Wolf has made a crucial mistake. He's volunteered for a secret raid, dragging along with him, his unit of misfits. They fall under the command of Colonel Ulric Dahlgren and set out on a quest for redemption and vengeance that will strike at the head of the Southern Cause.
Northern Blood - In the Spring of 1864, a daring raid is devised to draw the Confederate cavalry into a winner-take-all showdown. The Union needs a group of soldiers just brazen enough to do it or die trying. Libby Prison's most recent escapee, Johannes Wolf, and his unit of misfits, might just be the ones to get the job done - if Red Shirts don't kill them first.
Northern Dawn - Promoted, Wolf finds himself in the hot seat of the largest all-cavalry battle of the war near Trevilian Station. Isolated and surrounded can they survive the coming Southern storm? Or will they be overrun and annihilated, a mere footnote in history?
Northern Shadows - With the surrender of Robert E. Lee,Wolf's war isn't over. Diehard rebels still operate in the field, led by the secret organization the Knights of the Golden Circle. Their plot? Kill the president and let the war rage on. Wolf and his men rush to Washington, D.C., to meet the enemy head-on. But these enemies do not march and fight as armies do; they lurk in the shadows waiting to strike.
Praise for the Northern Wolf series -
"Greene has set the bar impossibly high -- no one writes about the American Civil war the way he does." - Coffee Pot Book Club Review
"Overall, I would highly recommend Northern Blood to fans of atmospheric and immersive Civil War fiction, likable characters with fantastic dialogue, and for historical military novel enthusiasts everywhere." - Readers' Favorite, 5-star review
"The pacing is perfect. The action scenes are tense. You are on the edge of your seat over and over." - N.N. Light's Book Heaven