The New Orleans Go Cup Chronicles Vol 1-3: Rescued By A Kiss, Dead and Breakfast, Drive Thru Murder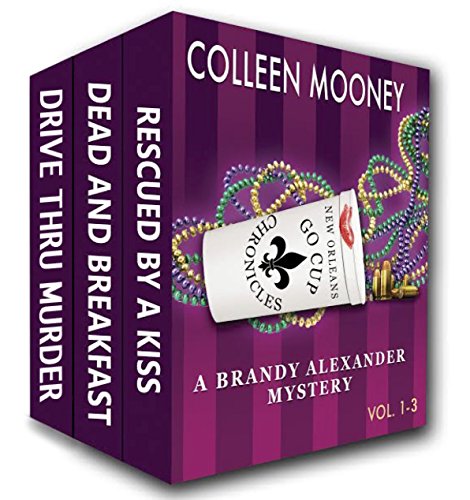 The New Orleans Go Cup Chronicles Vol 1-3: Rescued By A Kiss, Dead and Breakfast, Drive Thru Murder
by Colleen Mooney

THREE SIDE-SPLITTING NEW ORLEANS GO CUP CHRONICLES in a Box Set at the Ready-To-Go price of $4.99! All the fun of Mardi Gras—without the hangover! Colleen Mooney's funny, romantic, delightfully meandering cozy mysteries guarantee you gon' have an authentic New Orleans experience, dawlin' with a wild ride thrown into the bargain. Brandy Alexander's the real deal--yes, that's her real name and she's not even a stripper, although her best friend Julia is. YOU WILL LOVE THESE: The offbeat way Brandy goes about it all has a definite whiff of Janet Evanovich's Stephanie Plum; fans of Stephanie Bond, Jana DeLeon, Joan Hess, Lisa Lutz, Sarah Strohmeyer, and Elaine Viets may also find a kindred spirit in this New Orleans dawlin'. And animal lovers will flat-out swoon! Book 1 RESCUED BY A KISS Brandy gets an unexpected KISS TO KILL FOR. Brandy still lives with her parents in the Irish Channel and she's sort of semi kind of engaged to the boy next door, who's—what else?—one of NOLA's finest. And Italian! Dante, the BF, is such a thoroughgoing New Orleanian he always manages Mardi Gras parade duty on his own block. So you'd think Brandy might be a little self-conscious a suave Svengali in one of the gentlemen's walking clubs mesmerizes her into a big fat Mardi Gras smooch right in front of him. But not a bit. Because after all, it's Mardi Gras, and also for another good reason--that kiss was long, slow, hot—unlike any kiss I'd ever had in my life. She makes a date to meet Mr. Great Kisser after the parade (Yes! Right in front of Mr. Right Next Door) but –horrors--arrives just in time to see him get shot. Although fortunately not shot dead. Before he passes out, he pulls her close and whispers, "Save Isabella. And with that we're off on a screwball chase all over town, from Lee Circle to the Lakefront, with a stop at Charity Hospital, and finally to the French Quarter's favorite gay dance club, at all times accompanied by Schnauzers, one of them named Geaux Cup.

Vol. 2 DEAD AND BREAKFAST--DEAD IN BED…WHO YOU GONNA CALL? Brandy Alexander is a true and trusted friend – not to mention something of a detective-- who else would you call if you found a full-blown murder mystery in your bedroom? So when Brandy's best friend Julia, the ex-stripper-turned hotelier, finds her first and only guest covered in blood, lying half on and half off a broken bed—with Julia's panties swinging from the chandelier – she gets Brandy on the horn. And Brandy does the only sensible thing—makes coffee...with a shot of whiskey--then calls the police. And who should respond, but her recent ex-boyfriend, Dante, with a brand new daggers-looking female partner? But wait! This is not nearly complicated enough for Noo Awlins, where, after all, everybody knows everybody! Julia's lawyer is none other than Jiff, Brandy's new squeeze (and the reason Dante's the ex-boyfriend). As the suspense mounts, the romance blossoms, and not just one. Jiff's looking more and more like Mr. Right: a 100% Class Act, with his own Schnauzer and a soft spot for Brandy's three. But Dante makes it clear that he doesn't plan to go quietly; the former Mr. Right Next Door has a few very sexy moves he's been holding in reserve, which knock Brandy's socks--and truth be told, her panties --off!

DRIVE THRU MURDER, Book 3 When Brandy pulls into the drive-thru, she expects to order a box of CLUCK IT!—CHICKEN BY THE BUCKET, not hear gunshots and see someone in high heels and a black leather miniskirt climbing out of the pick-up window dragging a body. Her boyfriend, New Orleans Detective Dante Deedler, is on this case and hers as bodies keep turning up and she knows about them before he does. Her neighbor--a palm reader who is also a phone sex operator--has visions of Brandy's future and past leaving more questions than answers. Murders, family dilemma and a rescued Schnauzer named Jesus has Brandy distracted. Could she be the next victim? There's no place like New Orleans to have a good crime!