The Marshall and the Thief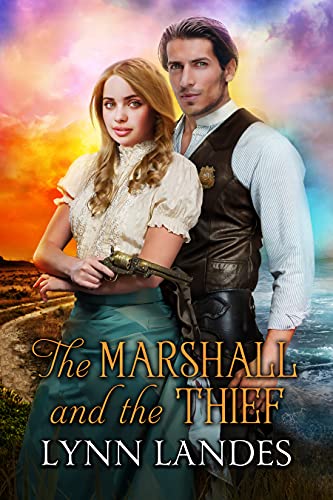 The Marshall and the Thief
by Lynn Landes

He's a Marshall, sworn to protect and uphold the law. She's the daughter of a violent and dangerous thief. Paige longs for freedom and a life with no pain or fear. U.S. Marshall Nash Houston tempts her with a promising future, but first she has to agree to help him stop her father. Will she steal his heart and run for freedom or choose to trust in the promises he whispers?

Paige has been plotting and saving. After each robbery she squirrels away a piece, preparing for a life of freedom. When Paige discovers that her father has promised her to the highest bidder, she knows it's time to run. The train robbery was supposed to be a chance to escape from the constant pain, but when the guns are turned on a passenger, Paige steps in and changes the path of her life.

Nash Houston is a Marshall on a perilous assignment. He's been hunting a band of robbers turned murderers for six months. It's the final step before returning home for good. When his mother is almost killed by the very robber's he's hunting, Nash makes a deal with the devil's daughter by offering her freedom. The last thing he expects is to have feelings for a thief.

As the manhunt throws them together, their reliance on each other grows. Falling in love is easy but learning to trust seems impossible for the Marshall and the Thief.