The Love and Temptation Series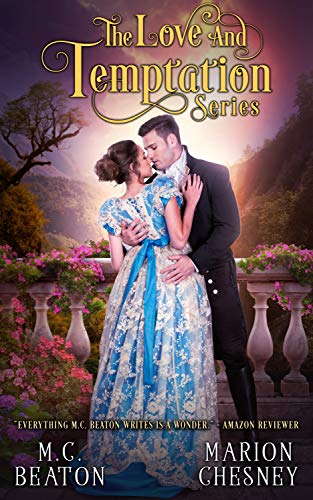 The Love and Temptation Series
by Marion Chesney

M.C. BEATON BRINGS YOU SEVEN TITLES IN ONE – A REGENCY ROMANCE SERIES THAT IS SURE TO CHARM YOU AND BRING A SMILE TO YOUR FACE.
The temptation to break society's rules overwhelms even the most prim and proper heroine of the Love and Temptation collection. Beset by awkward situations, mixed identities and ambitious families, these women refuse to bend to society's whim and still manage to capture true love in the process.
The Love and Temptation Series includes: The Original Miss Honeyford, At the Sign of the Golden Pineapple, The Education of Miss Patterson, Quadrille, Sweet Masquerade, Miss Davenport's Christmas and The Perfect Gentleman.