The Levee District Three: Crimes of the Levee, The Wrath of Moses, and Degrees of Evil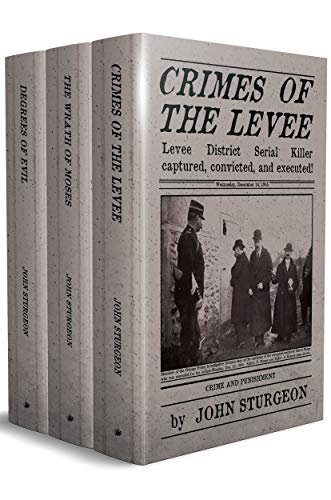 The Levee District Three: Crimes of the Levee, The Wrath of Moses, and Degrees of Evil
by John Sturgeon

"This series is perfect for fans of historical crime!" –Anne Bonny Book Reviews
***This box set includes the first three crime mysteries in the Levee District Series. Book #4, Taming Evil, releases April 8, 2021.
CRIMES OF THE LEVEE (Book One)
It is 1905, and Chicago is an open town. The most accessible part of town is the Levee District. It is an area of the city that's hard to tell the crooks from the cops. There are brothels, madams, opium dens, gambling joints and plenty of alcohol, but it all comes at a price in the Levee, and the two Ward Aldermen get their share of every vice's dollar. With the hanging of serial killer, Simon Kluge, police Detective Patrick Moses is suddenly without a case. Before Moses can relax, he is approached by an aging retail mogul who asks him to investigate the mysterious shooting of his son.
As Moses gets deeper into both cases, he realizes that in the Levee there are a lot of people who don't want the two cases solved, including the police and the Ward Aldermen.
THE WRATH OF MOSES (Book Two)
After the shocking murder of his father, Patrick Moses is forced back into duty in the crime-plagued Levee District. The mysterious, blonde-haired mute, a man Moses believes to be responsible for four murders, continues to elude the police. Tracking him is an endless task, but Moses and his new partner, Sam Walker, are asked to step up their investigation of the "Prostitute Murders" after the head of a courtesan is found impaled on the tip of a sword in front of the precinct building. When the twin daughters of a successful elevator manufacturer are kidnapped, Moses and Walker are asked to prioritize this new case. As the pressure mounts and the cases get darker, Moses begins to unravel. The trips to the opium den and his drinking take over. Moses knows he is slowly becoming one of the Levee District animals he usually tracks.
DEGREES OF EVIL (Book Three)
After a shocking kidnapping case in New York City, Patrick Moses is summoned back to Chicago to help on an equally disturbing matter. Someone is murdering older women, using their own bed sheets to tie and bind them while suffocating them with their pillow stuffings. Other than similarities in the cases, there are no hard clues. What Patrick does find is that his old nemesis Christian Hanson is back in Chicago, operating around the Levee District. To complicate matters, an overzealous Police Captain is trying to pin two murders on Moses. Patrick also seems to be falling for his beautiful, new neighbor, until he finds that her ex-husband has mysteriously disappeared.