The Growth Mindset Workbook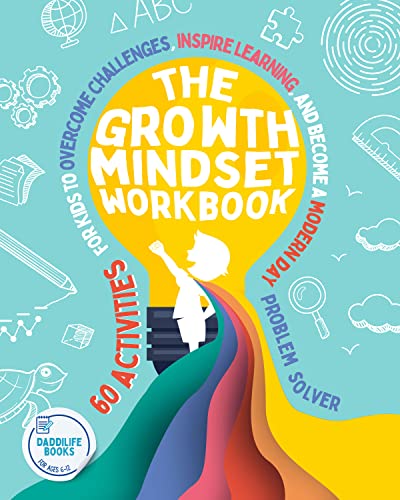 The Growth Mindset Workbook
by DaddiLife Books

Set your children up for future success by cultivating a growth mindset to help them achieve their goals.

Nothing is impossible. The word itself says 'I'm Possible.' Audrey Hepburn.

Is traditional learning enough on its own for children to succeed in an ever changing world? A growth mindset for kids helps broaden their ability to learn new things. The Growth Mindset Workbook is a fun and engaging workbook that's packed with awesome activities, creative exercises, and a 7-day growth mindset journal to help your child train their growing brain, and develop problem-solving skills through practice and repetition.
In this growth mindset book by DaddiLife Books, the writers and dads at the award-winning platform have worked with early years teachers to ensure kids aged 6-12 know how to nurture an awesome "can-do" attitude and celebrate mistakes as a path to success.
The Growth Mindset Workbook includes:
60 creative activities - that get kids to understand how their brains work, to dream big, and transforms problem-solving into engaging exercises.
A 7 Day Growth Mindset Journal - that both boys and girls can use to put their learnings into real world action.
Child focussed - with success stories and concepts so that school children aged 6-12 will gain the positivity that benefits them throughout their personal and professional lives ahead, way beyond school. This book has exercises that not only develops growth mindset through writing, but also through drawing and coloring.

Your children will gain:
Fun (and rewarding) work that also reassures them that perfection isn't always possible, and mistakes and stumbles are opportunities to change and grow for the better.
Lots of everyday examples and simple exercises. This growth mindset for kids book is a great way to teach them that they can take on just about anything with effort and encouragement.
Their own pathway to overcome of their own challenges and work on their goals - it's like having a growth mindset coach.

Parents and Carers will benefit from:
Learning how to encourage a growth mindset with their children, in everyday circumstances.
Working with your child in specially designed activities that show why flexibility and adaptability are key, that "not yet" can mean "someday" and much, much more!
A different form of connection and communication with your child, built around the power of mindset specifically.

The Growth Mindset Workbook is your essential tool for setting developing brains free of one-dimensional thinking and expanding their endless possibilities.

If you're ready for your child to have an enchanting journey in education through creative exercises and actionable advice for building faith in themselves, then click the 'Buy Now button and start expanding their minds now.