The Fear of Failure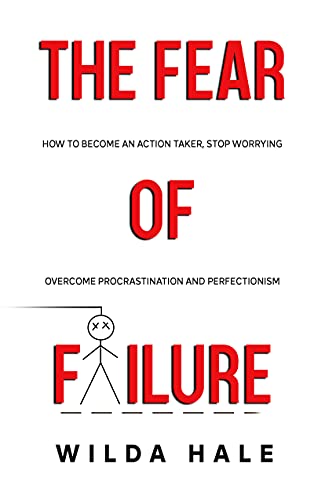 The Fear of Failure
by Wilda Hale

How many times have you missed out on something that could have changed your life, all because you were too afraid? Is the fear of failure making you procrastinate? Does your perfectionism stop you from taking action? Then you need to keep on reading…
Mistakes and failure often leave us with feelings of unworthiness. Thoughts such as "I'm not good enough" or "I'm not smart enough" flood our minds. Why do we judge ourselves so harshly?
Everyone experiences failure at some point in their life. In our society, success is celebrated, while failure is considered something that we need to stay away from.
But should failure be something we're so embarrassed about, that's making us feel worthless?
Knowing how to handle failure makes a massive difference when it comes to our mental health and our capability to get back on our feet …
As an entrepreneur, author, and human being, I'm no stranger to failure; I don't think there's anyone who hasn't experienced it in one way or another, which is why I felt inspired to write this book. I have wasted many years and so many opportunities because I wasn't feeling ready or good enough. Constant worry and self-doubt in my abilities made me feel imprisoned, hopeless, and miserable. I was trapped in awful imaginary scenarios. Fear held me back more than any other obstacle.
I understand how it feels when the voice inside your head always looks for a way to hold you back. But now it's time you start nurturing a new voice: one that reminds you that you're good enough and that encourages you to push through when all seems to fall apart.
Between the pages of this book, you will discover:
Where your fear of failure originates from and how to overcome it
Stories about some of the most successful people in the world and how they handled their failures
How to fight off perfectionism and become an action taker
How to stop self-sabotaging and conquer your procrastination tendencies
Why you shouldn't rely on motivation to get things done and what you can do instead
Practical ways to fight off your inner demons: worry and the critical inner voice
How to desensitize yourself from the pain of rejection
How to manage stress, gain inner peace, and become a happier version of yourself
And much more…
Even if you dealt with worry, self-doubt, and paralyzing fear since you've known yourself, the information from this book is simple, practical, and here to help you get unstuck.
Don't wait for someone else to change your life. Click "Add to basket" to overcome your fear of failure, stop procrastinating, and fight perfectionism now.