The Extraordinary Life of an Ordinary Man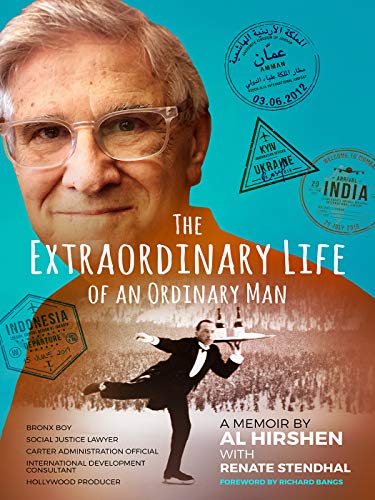 The Extraordinary Life of an Ordinary Man
by Al Hirshen

Al Hirshen has led an unusual life. He learned street smarts in the Bronx, helped out at his father's candy store, worked as a waiter in the Catskills to pay for his schooling, and became a lawyer. A participant in many of the pivotal changes of our times, Al was a Civil Rights and pioneering anti-poverty lawyer and created the first public/private partnerships in the Carter Administration. He was among the first USAID consultants to work in Russia, Ukraine, Slovakia and Albania.

Ready for new challenges and adventure, Al travelled the world, was a successful international development consultant, and tried his luck at movie production in Hollywood. For nine years he worked as a consultant to the leadership of Indonesia during that nation's turbulent transition to democracy.

Al writes with a sense of humor and a profound love of life, the world, and people. As a recovering alcoholic, father, grandfather and husband in a happy twenty-five-year third marriage, he sees himself as an "ordinary man" blessed to live life fully in an imperfect, yet stunning world.

"This book is a vibrantly alive, candid, and compelling memoir of a son of Jewish Immigrants from the Bronx, an intensely restless soul, ever in search of the next adventure, driven to making the world a better place along the way."

Thelton Henderson, Judge (Ret.) United States District Court

"A beautifully written, gripping, and amusing memoir, full of psychological insights, humor and world-wisdom. Al Hirshen has the determination, chutzpah, self-irony, and heartfelt generosity of a true lover of life."

Kim Chernin, author of In My Mother's House

"The title of this memoir may at first glance resemble a kited check; but there is more than enough in the bank of Hirshen's life story to cover two books. Not since Sybille Bedford's The Faces of Justice have I encountered such sharply observed stories of public life in the trenches."

Richard Buxbaum, Ralston Professor Emeritus of International Law, UC Berkeley Law School

"Al Hirshen weaves a remarkable tale of people, places, and events. His reflections on his illness and his recovery into the life of sobriety are rich and helpful. These are good words, written by a good fellow."

Fr. Tom Weston SJ., 12-Step Retreats, Renewal Ministries

From the Foreword by Richard Bangs:

Al's incisive writings stitch together the cloth that binds us as Americans and as world citizens. He explores different ideologies without judging. For him, ideology is a personal choice. With riveting tales of his various adventures and misadventures, he provides a road map to empathy, and the antidote to bigotry: traveling and living with an open mind.

This remarkable book encourages all of us to embrace a more deeply nuanced exploration of the world and its cultures, and to make it all part of the conversation. Al's peregrinations and interpretations encourage us to relinquish ingrained hyper-attachment to individualism, and to celebrate diversity and inclusion.

And yet, is the exploration and betterment of oneself not the greatest, most harrowing journey of all? In a raw account of his path to sobriety, Al gives his audience a look at what it means to reflect upon and confront our innermost demons and ultimately come out on the other side. Much like the stories of his travels, Al is able to recognize the parts of himself that need change, while also approaching that change with compassion, hope, and an open mind.