The Deliberate Thinker: A 12-Lesson Method to Empower Your Mind and Influence Your World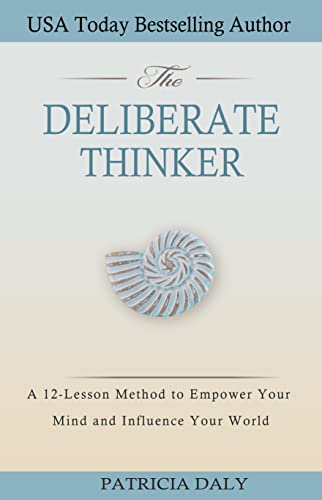 The Deliberate Thinker: A 12-Lesson Method to Empower Your Mind and Influence Your World
by Patricia Daly

YOUR THOUGHTS ARE POWERFUL FORCES OF CREATIVE ENERGY!

Do you want to learn how to use the power of your thoughts to benefit your life and the lives of others'? Wouldn't you want to learn how to carry within yourself the ability to direct your intentional thinking for the very best results in the lives of those you love and for any situation?

In The Deliberate Thinker you will discover how to develop and apply the power of the personal energy you possess right now. You will learn how to use your thoughts intentionally to heal, bless, help, protect, forgive, and love.

These 12 lessons teach you how to add value to your world by being a force for good through your thinking powers or the energy centers of your mind—your faculties—to impact the world around you. Through the words, visualizations, and feelings you focus toward others you will become a positive force for good and find your own life strengthened.

The Deliberate Thinker contains a template for you to use the power you already have in yourself as a thinking person. You will journey through progressive stages of Preparing, Awareness, Creating, Realizing, and Responding. Each stage provides how-to lessons to move you forward in confidence and ability.

Many books about meditation and mindfulness are centered on the person who wants to be calm, relaxed, and free from anxiety, worry, and fear. The steps and lessons in The Deliberate Thinker can be applied to your personal goals, but they are primarily other-focused and outward-focused. This method is about reaching out, giving, and becoming a force for good by adding to your world. If you want to give and help and see good things come about through your ideas, intention, will, thoughts, words, and feelings, this method is for you!

The Deliberate Thinker is for those who seek—
Lessons on how to apply intentional mental energy to life's demands
A blueprint for applying purposeful thought power
A method you can use within or without a religious context
A purpose-driven process that can enrich your life as you help others heal and grow
A course to identify the capacities within yourself that are waiting to be discovered and shared
A personal program to teach you how to release the power of active intention
A way to focus and use thought energy for the good of others
An energy management guide for using your creative power of mind


This practical book is not just another meditation tutorial. Nor is its subject the Law of Attraction or a how-to book about getting rich through mind control. The method developed by Patricia Daly is the result of years of studying and assimilating the writings of the pioneers of the New Thought movement in the late-19th and early 20th Century.

From the earlier New Thought philosophy of writers such as
Ernest Holmes
Christian D. Larson
Florence Scovel Shinn
Neville Goddard

…and right up to contemporary authors such as
Joe Dispenza
Gabrielle Bernstein
Gregg Braden
Lynne McTaggart

…all have touched upon many of the elements and tools included here in The Deliberate Thinker.

Many authors from the 19th, 20th, and 21st Centuries have written about the stages and lessons included in this book. But none have explained their philosophy or presented their ideas of the science and power of mind with the clarity, simplicity, and step-by-step instruction you will find here.

Now, scroll to the top of this page and click the 'Buy Now' button to get started today. Learn to be a force for good in this world! Start to think deliberately!