The Complete Mediterranean Instant Pot Cookbook: 3 Book Set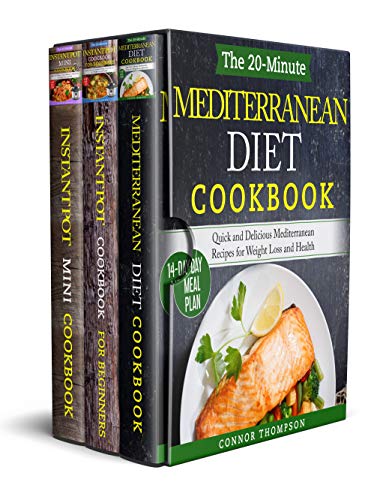 The Complete Mediterranean Instant Pot Cookbook: 3 Book Set
by Connor Thompson

Embark on Your Mediterranean Instant Pot Dieting Lifestyle with These Easy, Delicious Recipes!
Do you want to enjoy the taste of the Mediterranean, without the hassle and the long hours spent in the kitchen? Are you searching for healthy, fulfilling dishes that will impress your friends and add some exotic flair to your mealtimes with Mediterranean cuisine? Or do you want to discover the wonders of the instant pot and how pressure cooking can make cooking easy? Then this guide is for you!
Packed with a wide range of great-tasting, easy-to-make Mediterranean dishes, this guide will take you on a journey into the heart of Greece, Italy and beyond. With a collection of simple instant pot and pressure cooker recipes which you can throw together and forget about, along with a range of stunning Mediterranean diet recipes which take no longer than 30 minutes to prepare, this blueprint makes getting started with the Mediterranean diet a breeze!
Plus, all of these recipes are specially crafted for beginners, so you can learn to create a wonderful selection of Mediterranean dishes no matter your level of experience.
Here's what you'll find inside:
In The 20-Minute Mediterranean Diet Cookbook, you'll embark on a journey into Greek and Italian cooking with classic meals from across the Mediterranean sea, as well as how you can benefit from a pescatarian diet. You'll also find a wonderful pescatarian meal plan tailored specially for beginners.
In The 30-Minute Instant Pot Cookbook for Beginners, you'll find the instant pot Bible, with a selection of quick and tasty electric pressure cooker recipes which you can put together and leave in your instant pot for even your busiest days
And in The 30-Minute Instant Pot Mini Cookbook, you'll discover how to create simple, delicious 3 quart instant pot recipes for two people, couples, and small families with even the fussiest eaters!
Whether you want to lose weight, improve your overall health, or simply expand your cooking skills and enjoy the tastes of Mediterranean cooking without having to dedicate hours to the kitchen, this complete guide will open your eyes to the possibilities of the instant pot and the Mediterranean diet. With additional advice for Mediterranean diet meal prepping, now you can easily see why so many people swear by this incredible diet.
Ready to discover the wonders of the Mediterranean diet? Scroll up and grab your copy today!