The Complete Dead State Series (A Post Apocalyptic Survival Thriller, Books 0-5)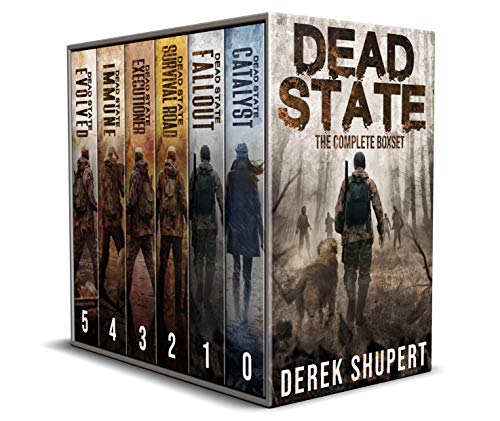 The Complete Dead State Series (A Post Apocalyptic Survival Thriller, Books 0-5)
by Derek Shupert

A prehistoric virus. An infectious primal hunger. Some discoveries are better left buried…
James would much rather hang out with his friends than go hunting with his father, the survivalist. What starts out as another uneventful trip, however, takes a hard turn for the worse when they're attacked without explanation. Panic stricken and running for his life, trying to get back to his family, James and a handful of other survivors are forced to fight an enemy they cannot beat on grounds they do not know. The odds are not in their favor, but if they want to survive, they must venture deep into the deadly unknown, right down to the heart of his ravenous horde…
The Complete Dead State series is an action-packed survival story focusing on fortitude, strength of character, and the power of community. If you like spine-crawling suspense mixed with post-apocalyptic grit, this is an edge-of-your seat tale you can't afford to miss!
The Complete Dead State is perfect for fans of David Simpson, Christopher Artinian, and Peter Meredith. Grab all five full-length thrillers, plus the Novella (Catalyst), at 60% off and start binge reading the series today!
WHAT READERS ARE SAYING:
"The action never stops and each book leaves you jonesing for the next one!"
– Amazon reviewer ★★★★★
"Great characters lots of action, undead, all wrapped up in an awesome story!"
- Amazon reviewer ★★★★★
"I cannot say it enough…if you have not read this author then you are missing out! If you like a fast pace and lots of action storyline then this is the series for you!"
- Amazon reviewer ★★★★★
"Everyone who likes end of world fiction must try this series."
- Amazon reviewer ★★★★★
BOOKS INCLUDED IN THE BOX SET:
THE COMPLETE DEAD STATE SERIES
Dead State: Catalyst (Prequel)
Dead State: Fallout
Dead State: Survival Road
Dead State: Executioner
Dead State: Immune
Dead State: Evolved