The Complete Age of Embers Series (Books 1 - 5): A Post-Apocalyptic EMP Survival Thriller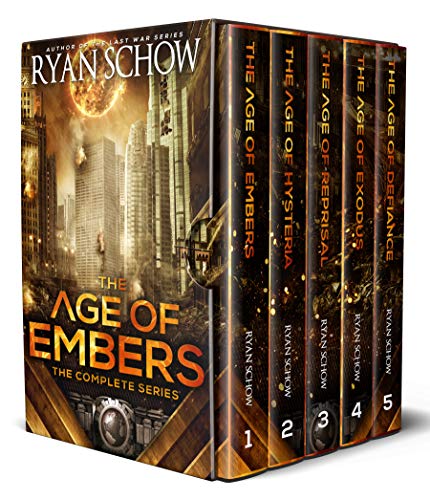 The Complete Age of Embers Series (Books 1 - 5): A Post-Apocalyptic EMP Survival Thriller
by Ryan Schow
With more than thirty million pages read, twenty-eight thousand books sold and almost one thousand combined five-star reviews, The Complete Age of Embers Series will get you hooked on reading once more! Five highly acclaimed full length books now in one complete set!
A high-tech nightmare startles the nation, followed by a crippling EMP attack on America and her infrastructure. Are humans in their final days? When a sudden, unexplained spasm of violence rocks the country from coast to coast, when our military is hijacked and the President can't be found, several groups of survivors are left to wonder if this is the start of a new world war, or if this is the last chapter of humanity itself.
Undercover DEA agent, Fire Dimas, is drowning in problems: an unrelenting job, a difficult marriage and a teenage daughter with suitors of the worst kind. Then there's the cartel he double-crossed and the "incident" at the high school.
Guatemalan born cartel daughter, Eliana Gutierrez, breaks free of everything she's ever known to track down her niece, Carolina, who was trafficked up through Mexico and into America where all hell is breaking loose.
Rock Dimas and a woman he's not even sure he likes are herded into the fiery center of an extinction-level event where only two choices exist: run for your life, or burrow in to the last place anyone sane would go and confront the enemy directly.
The Complete Age of Embers Series is a no-punches-pulled, post-apocalyptic survival series chronicling the harrowing journey of ordinary people struggling to survive an encroaching dark age. Get ready for characters you'll want to know in real life, a riveting post-apocalyptic atmosphere and a no-holds-barred action/adventure series that just might hit a little too close to home. This series is perfect for fans of Jack Hunt, James Hunt, Mike Kraus, Kyla Stone, T.L. Payne and Harley Tate.
NOTE: The Complete Age of Embers Series can be read as a stand alone series or in addition to The Complete Last War Series. Both series are written in the same universe on the same timeline and many of the characters will overlap.
Books Included in this Box Set (In Order):
The Age of Embers
The Age of Hysteria
The Age of Reprisal
The Age of Exodus
The Age of Defiance
Other Post-Apocalyptic fiction by Ryan Schow (In Order):
The Last War
The Zero Hour
The Ophidian Horde
The Infernal Regions
The Killing Fields
The Barbarous Road
The Terminal Run