The Burning Hollow: A Post-Apocalyptic Survival Thriller Series (Sunset on America Book 1)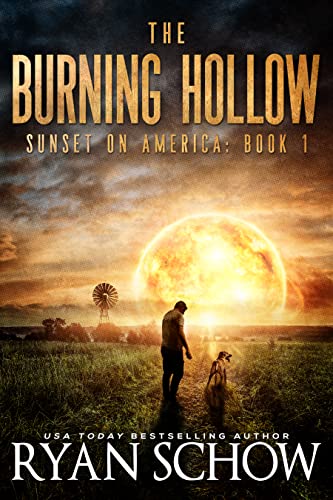 The Burning Hollow: A Post-Apocalyptic Survival Thriller Series (Sunset on America Book 1)
by Ryan Schow

A fourth-generation farm…
…tucked into the Tennessee holler.
Is this the Banks family's best chance of surviving the EMP?
In the near future, in the picturesque town of Burning Hollow, Tennessee, a century-old squabble between two families is brewing. For four generations, blood has spilled between the patriarchs, shifting the tides of power. But after each significant change, a new war begins.
It's that time again...
Rowdy Banks is grinding out the most challenging day of his life when his run of bad luck worsens. Despite a collapsed economy, or because of it, Rowdy feels it's time to close old wounds. If he returns to Burning Hollow, a town from which he was exiled, he must answer for his past. It's not wise to ruffle so many feathers; he'll kick the hornet's nest instead.
But then she shows up and sparks a bonfire.
Chloe Bickmore and 11-year-old, Evie, are sneaking into Burning Hollow when they are attacked. While one fights for her life, the other holds the key to Rowdy Banks' salvation. Desperate, scared, and on the run, Chloe cannot imagine the danger that lies before her, nor does she realize she is central to a war that could burn this Appalachian town to the ground.
And then the lights go out, the grid fails, and everything changes...
Will an EMP strike on a failed economy prove lethal to a besieged nation? Or will its citizens rally to protect their homesteads and safeguard their families? Find out in this small-town post-apocalyptic survival thriller full of great characters, apocalyptic ambiance, a few well-timed laughs, and some poignant moments.
The Burning Hollow is USA Today Bestselling Author and master storyteller, Ryan Schow, at his finest. So grab your copy of the book, find a quiet place to read, and settle in for a story like no other…
*This 6-book post-apocalyptic survival series has no coarse language, explicit sex scenes, plagues, or zombies, but does contain some mild violence similar to that of a PG-13 action and adventure film. Perfect for fans of A.G. Riddle, Kyla Stone, Franklin Horton, Jack Hunt, Boyd Craven, and Bobby Akart. Suitable for ages 13 and up.
BOOKS IN THE ONGOING SUNSET ON AMERICA SERIES:
THE BURNING HOLLOW
THE ASHES OF THE UNKNOWN
A CONFLUENCE OF TYRANTS
THE RESURGENCE OF PATRIOTS
A COLD RECKONING
A POUND OF FLESH (Summer, 2023)