The Brothers Locke: An Urban Fantasy Adventure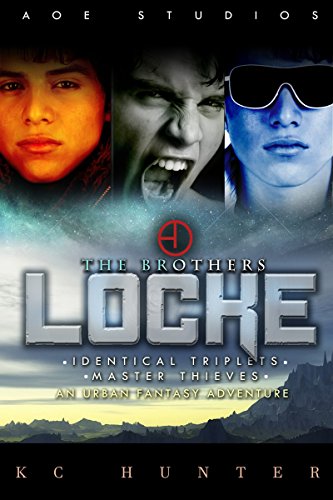 The Brothers Locke: An Urban Fantasy Adventure
by KC Hunter
Sometimes the Good Guys are the Bad Boys
Mouth, Echo and Sharp Locke are identical teenage triplets — and master thieves — who live in the magical world known as The Dea. Each brother is gifted in one way and disadvantaged in another: Mouth is hard of hearing but has a voice powerful enough to level buildings, Echo is legally blind but has enhanced hearing that can even decipher information being transferred along radio waves, and Sharp is mute but has vision so enhanced that he can see great distances as well as in different spectrums of light. Working together, they make a proficient team of teenage thieves.

Their first official job is to steal a mysterious artifact, The Key of the Spire, from the metropolis of Avidity. The job becomes complicated when what they've stolen turns out to be an ancient relic that mercenaries, monsters, and madmen covet and will go to any lengths to obtain. This pairs them with an unlikely group of mercenaries known as Solas for help, although they have their own agenda for aiding the brothers.

From fleeing the city of Avidity, to being trapped by ghosts and monsters in the darkness of Black Harvester Forest, to being captured by air pirates known as the Crimson Corsairs, to battling hybrid man-bat mutants and their sinister master Von Strauss, this urban fantasy adventure is filled with vibrant characters, imaginative locations, and fast-paced action.

For fans of Potter, Percy, or Peregrine, this fast-paced fantasy adventure story is for you!