The Beautiful Addiction: Passing Through the Marathon Wall for the 70th Birthday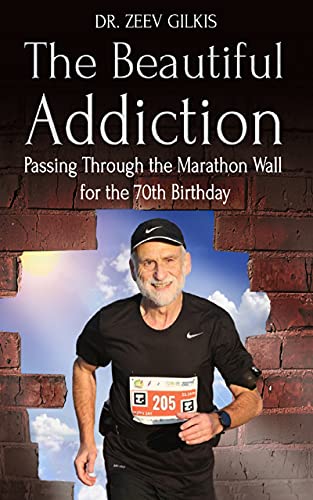 The Beautiful Addiction: Passing Through the Marathon Wall for the 70th Birthday
by Dr. Zeev Gilkis

It's never too late to make dreams come true - even at the age of 70.
At the age of 68 Dr. Zeev Gilkis, a cancer survivor, decided to gift himself an unusual present for his 70th birthday – to run his first full marathon.
In his previous book "Running Back in Time" the author, writing at the time at age 69, told the story of the first half of his journey. Beginning with two injuries and 5 km runs and ending with achieving his interim goal of running a half-marathon.
"The Beautiful Addiction" relates the second part of his journey, through which Zeev gradually increases the distance of his runs from 21km to 42km while sharing his thoughts about life and becoming ageless, all the way to the surprising ending.
This book is about making dreams come true, setting ambitious goals, persistence, performance, achievement, and joy. There is also some life philosophy and of course, a lot of running.
Read and discover that you too can realize your dreams!