The Bad Company Complete Series Omnibus: Books 1 - 7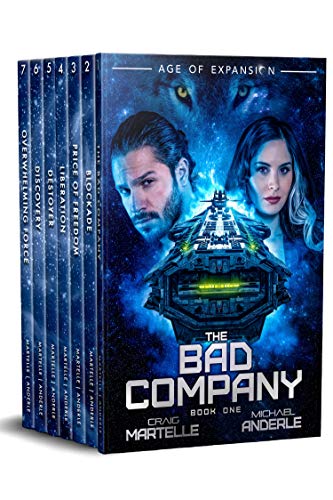 The Bad Company Complete Series Omnibus: Books 1 - 7
by Michael Anderle

Grab this full series omnibus collection of The Bad Company series today!
Humanity's greatest export—Justice.
Space is a dangerous place, even for the wary, especially for the unprepared. The aliens have no idea.
Here comes the Bad Company.
The Bad Company, book 1 -
Colonel Terry Henry Walton takes his warriors into battle, for a price, in this first installment of The Bad Company. He believes in the moral high ground and is happy getting paid for his role in securing it.
Set in the Kurtherian Gambit Universe, Terry, Char, and their people—humans, Werewolves, Weretigers, and Vampires—form the core of the Bad Company's Direct Action Branch, a private conflict solution enterprise.
Join them as they fight their way across Tissikinnon Four where none of the warring parties were what they expected.
Book 2, Blockade -
When the Bad Company learns of a human colony blockaded by aliens, they take the upgraded War Axe into battle. Once again, nothing is as it seems, but this time, they find a single enemy, evil to its core.
Ending that threat is a cause they are willing to die for. What would you do?
Book 3, Price of Freedom -
*** Price of Freedom is a 2018 Dragon Award Finalist ***
On Earth, parents told stories about the devil to frighten children. But devils exist and from time to time, they find their way here.
Terry and Char, take the Bad Company's Direct Action Branch into combat to rid a world beyond the borders of a new incursion. All it will cost is the inhabitants' most advanced technology, a miniaturized power supply that will revolutionize the Etheric Federation.
Nathan wants it, badly enough that he's made the mission non-negotiable. Terry's hands are tied as he takes the team into the hot zone.
Join Terry and Char as the War Axe delivers the team to a planet well outside of Federation space where they have to convince the local aliens that the Bad Company is from the government and they're there to help.
Join the Bad Company as they fight an enemy from their worst nightmares.
This 7 book series omnibus includes:
The Bad Company
Blockade
Price of Freedom
Liberation
Destroyer
Discovery
Overwhelming Force
Terry. Char. The last chapter. Read it now.
This is the final series with Terry and Char as main characters. If you haven't followed Terry and Char's adventures, you can start here, or you can go all the way back to when they first met in Nomad Found, Book 1 of the Terry Henry Walton Chronicles.
Go forth and conquer, just like Terry and Char.
--- PLEASE NOTE ---
*NOTE: If cursing is a problem, then this might not be for you.