The Age of Embers: A Post-Apocalyptic Survival Thriller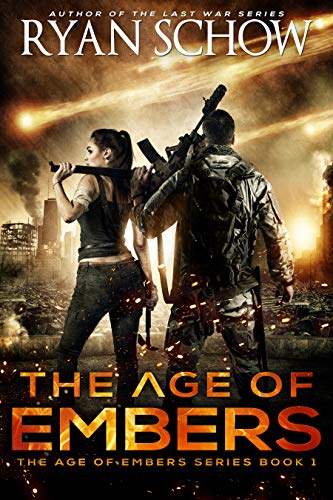 The Age of Embers: A Post-Apocalyptic Survival Thriller
by Ryan Schow
NEW RELEASE SPECIAL! The Age of Embers will be on sale for $0.99 until March 18, 2019 before heading to its normal price of $3.99.
Fresh off the highly acclaimed, massively successful Last War series comes a new chapter in the apocalypse from bestselling author, Ryan Schow. The Age of Embers is the first book in a new standalone series that takes place in the Last War universe.
The end is coming, are you ready?
A savage attack. Society at the end of its rope. The most dangerous city in America is now caught in an extinction-level event. Is the assault on Chicago a facet of military tech gone awry, or does this sudden spasm of violence signal a darker, more ominous future? In The Age of Embers, several paths will collide in the center of a post-apocalyptic nightmare of epic proportions.
Undercover DEA agent, Fiyero "Fire" Dimas, is drowning in problems: a soul-crushing job, an inadequate marriage and a teenage daughter with suitors of the worst kind. Then there's the drug dealers he double-crossed, and the "incident" at his kids' high school. With the added complication of an attack on the city, can Fiyero pull himself together long enough to salvage his work, put his family back together and avoid the storm headed his way?
Ciudad Juarez is a ferocious city where guns, drugs and human trafficking rule the land. Guatemalan born Eliana Gutierrez ventures into the heart of this perilous urban jungle in search of her kidnapped niece. In a locale as hostile as Juarez, Eliana will come face-to-face with a rancorous man who will either be her salvation, or her bitter end. Under the cover of all-out war, Eliana will risk everything for the child…
The Age of Embers is a brand new post-apocalyptic survival series written inside the universe of the best-selling The Last War series. This edge-of-your-seat thriller chronicles the harrowing journey of ordinary people trapped in an encroaching dark age. Get ready for great characters, big post-apocalyptic action and a no-holds-barred action/adventure series that just might hit a little too close to home.
*The Age of Embers series can be read as a stand alone series or in addition to The Last War series. Both stories are written in the same universe on the same timeline.
WHAT FANS OF THE COMPLETE LAST WAR ARE SAYING…
"This series is awesome to say the least! I absolutely could not put it down. I love the characters...the story lines....the way the writer gave each character a chance to tell their story so that I was able to see through their eyes, to feel their pain, to feel the hope!"
– Kindle Customer Pam, Amazon Reviewer ★★★★★
"Great set of books! I like how Ryan keeps all the stories going at the same time and never skips a beat. Then at the end he brings them all together in a climatic rush where the characters are totally surprised of the outcome. Definitely an author to watch."
– David D, Amazon Reviewer ★★★★★
"Top Notch Reading! Absolutely awesome. Best series I've read in years. If you want to read a series you can't put down...this is it..."
– BJJones, Amazon Reviewer ★★★★★
"Awesome! Couldn't put it down. I've read a lot of series like these and this one was fresh and exciting!"
– Adam, Amazon Reviewer ★★★★★
**This series contains the kinds of violence one would expect in an apocalyptic meltdown, some PG rated language and adult situations. This book is politics-free, which is to say it contains NO political viewpoints by the author or by the characters within.