The 60-Minute Podcast Startup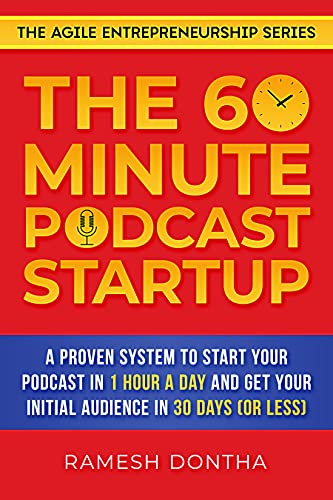 The 60-Minute Podcast Startup
by Ramesh Dontha

How to start and monetize a podcast in one month
Would you like to turn your podcast idea into a viable, revenue-producing show? Now you can, and Ramesh Dontha will show you step-by-step how. This podcast planner will help you launch and start monetizing your podcasts in under 30 days.
Ramesh is the host of iTunes Top 500 podcast The Agile Entrepreneurship Podcast, iTunes Top 250 podcast The Data Transformers, and BrightTALK top-ranking web series AI — The Future of Business.
In The 60-Minute Podcast Startup: A Proven System to Start Your Podcast in 1 Hour a Day and Get Your Initial Audience in 30 Days (or Less), Ramesh tells all. He shares how to brainstorm, record, publish, distribute, and promote a podcast people enjoy—all in one month or less!. Based on what works for him and dozens of other successful podcasters, Ramesh also teaches the best way to quickly monetize podcast episodes so the thing actually makes money.
This podcast workbook has daily lessons, excerpts from other podcast hosts, and daily to-do activities. Whether you want to see if podcasting is for you or you want to make podcasting your next income stream, The 60-Minute Podcast Startup offers simple steps to attract, entertain, grow, and monetize an audience in any niche.

Think of this book as Podcast for dummies, not as an offensive word, but more like a book for people with no prior knowledge about podcasting. With Amazon making podcasts free with Amazon prime, podcasts on kindle has become a reality as well. The book goes over podcast production, podcast marketing, podcast equipment etc.

Podcasts come in multiple categories. History podcast, criminal podcast, podcast ministry, religious podcasts have become very popular. Additionally, podcasts on politics, business, current news, comedy, romance categories have always been popular.
If you want start podcast as soon as possible, this book is for you. Perfect for podcasters who want to make money!