Ten in the Chamber: Reloaded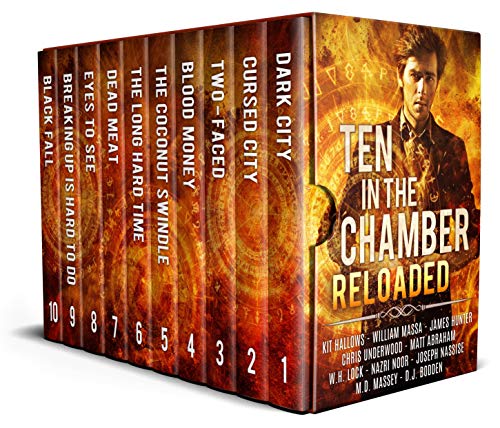 Ten in the Chamber: Reloaded
by D.J. Bodden

Orcs, vampires, rogue mages, and strange familiars... The night's filled with fearsome beasts who trod the urban landscape with cloven hoof or sharpened claw, keeping a yellow eye out for easy prey. So what's a citizen to do when dark shadows lie heavy, spells become useless, and wands lose their charm?

They call on the heroes of Ten in the Chamber.

These hardboiled cops and investigators specialize in a preternatural kind of justice. They aren't afraid to delve into dark magic or wield a cursed instrument to save the pure and innocent, and they won't quit until every dark deed is punished, and the scales of justice are set right.

In Ten in the Chamber: Reloaded, a cadre of your favorite authors have returned to once again bring you all the thrills of the urban supernatural, with a twist of sci-fi noir, in a brand new collection of full length novels and spellbinding novellas, enough to choke your bag of holding. So buy your copy today, and let them take you on a thrill ride through the dark that you won't forget!