Tarot Reading Made Easy: A Step BY Step Guide To Learning Tarot Reading In 28 Days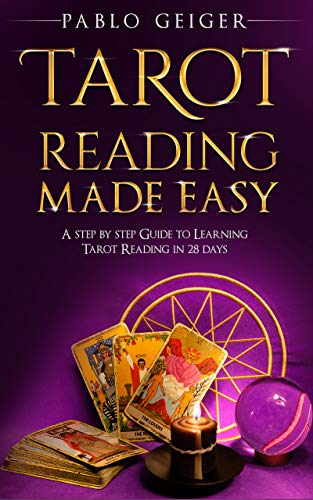 Tarot Reading Made Easy: A Step BY Step Guide To Learning Tarot Reading In 28 Days
by Pablo Geiger
Here's How Tarot Readings Can Help You Find The Answers To Your Important Questions:
Are you having trouble making up your mind? Do you have a gut feeling about something, but need further validation? Are you looking for a simple and comprehensive tarot guide book?
If you have always been fascinated by tarot cards and their allegories, affirmations and symbology, this book is exactly what you need.
How To Learn Tarot: Broaden Your Horizons & Learn How To Validate Your Inner Intuitions!
When it comes to tarot cards and book sets for beginners, this tarot reading chart book is exactly what you need in order to stop tossing and turning at night.
Making important decisions can be quite stressful and you might end up changing your mind several times. Don't hit that panic button just yet.
This Is The Moment To Trust The Cards!
Reading the tarot cards will offer you that much-needed peace of mind, enable you to understand complicated situations and encourage faster decision-making.
For centuries, tarots readings have helped people avoid making serious mistakes, encouraged positive risk-taking and uncovered hidden truths.
And now it is YOUR turn!
What's In It For You? Top 3 Reasons To Start Reading This Guide Right Now:
START YOUR TAROT JOURNEY: author Pablo Geiger has created an easy-to-follow, step-by-step tarot learning guide that will offer you an in-depth understanding of tarot decks, card and meanings.

MASTER AN ANCIENT ART: the visually appealing tarot reading charts combined with the professionally illustrated examples will give you the opportunity to master the ancient art of tarot reading even if you have never touched a tarot deck.

HELP YOURSELF & YOUR LOVED ONES: you do not need to have any supernatural abilities in order to understand and appreciate the value of tarot cards. Gain access to a new world of knowledge and make life easier for you and your loved ones.
Still Skeptical?
Unlike other tarot kindle books that promise otherworldly benefits, this all-inclusive tarot guidebook will help you comprehend the basics of tarot card decks and practice your skills to perfection.
Do You Know Someone Who Could Use This Book?
Surprise your wife, girlfriend, sister, mother, daughter, grandmother or granddaughter with this tarots card deck reading guide for tarot starters and offer her a special birthday, anniversary or holiday present!
What Are You Waiting For? Indulge Yourself!
Click "Buy Now" & Embark On Your Tarot Adventure!