Sunset at Catoctin Creek: A Sweet, Small Town Romance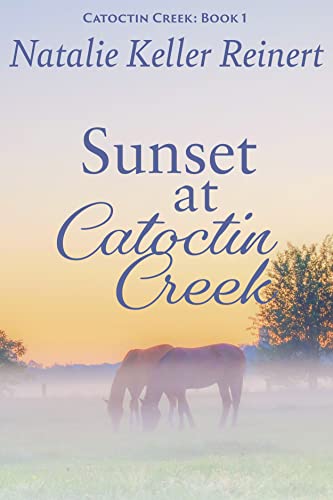 Sunset at Catoctin Creek: A Sweet, Small Town Romance
by Natalie Keller Reinert

Opposites find their missing piece, in this emotional and sweet country romance.
Rosemary Brunner doesn't like change. She's been living on the family farm where she grew up for her entire life. Sure, her friends worry she's slowly heading towards full-fledged hermit status, but she likes it just fine, thanks. Although, she thinks, maybe she should consider a big dog to bark at strangers knocking on her door late at night. Who wanders up a stranger's driveway at this time of evening?
Stephen Beckett doesn't like the dark. His stay in the backwoods outside the village of Catoctin Creek, Maryland, has lasted entirely too long. The moment he can get back to his life in NYC, he'll say a little prayer of thanks to the city that never sleeps. Of course, right now, he can't even find his way back to his late father's house. Lost, again, on these winding country roads! It's enough to make a man long for a late-night subway home.
Rosemary doesn't expect her life to change the moment she opens the door to a lost stranger. And Stephen never expected to lose his heart to a shy woman with a spitfire temper. But when these two meet on the front porch of Rosemary's farmhouse, they know their lives will never be the same.
And now that they've been thrown together, there are a thousand reasons for them to split apart. Stephen wants to develop the neighboring farm; Rosemary wants her elderly neighbors to stay next door forever. Stephen plans to return to the city; Rosemary never leaves her farm. They say opposites attract…but no one ever says what holds them together. Is love really strong enough to bridge the gap between this country girl and city boy?
Readers Say:
"Characters that are finely crafted (par for Reinert's work) and a lively plot. I think anyone who's been in love can identify with the vulnerability it brings." - Dale, Amazon Review
"Enjoyable storyline of two slightly lost souls figuring out life and love. Descriptive, emotionally charged writing that draws the reader into each scene. Believable characters with distinct personalities and great banter." - Bookzilla, Amazon Review
"Love, horses and a beautiful setting make this book a real winner." - Norman, Amazon Review
Welcome to Catoctin Creek
The farming village of Catoctin Creek has been ignored by the outside world for years. Now, as newcomers and big thinkers begin to make their mark on the town, Catoctin Creek could enter its most exciting phase yet -- while hanging on to its beloved country charm and neighborly spirit.
Read the entire Catoctin Creek Series and enjoy fresh takes on favorite characters alongside happily-ever-after romance. You can read these books in order, or on their own.
1: Sunset at Catoctin Creek
2: Snowfall at Catoctin Creek
3. Springtime at Catoctin Creek
4. Christmas at Catoctin Creek
Read them in a money-saving boxset with The Catoctin Creek Collection: Books 1 - 3.
And be sure to follow Natalie Keller Reinert for more Catoctin Creek stories to come!