Summer Snoops: Down Under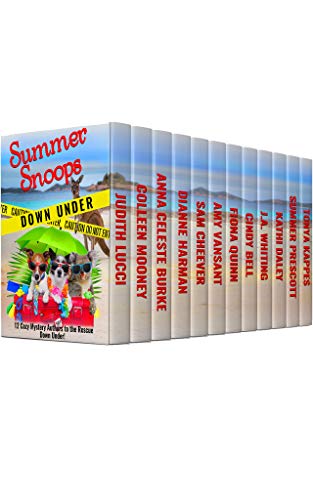 Summer Snoops: Down Under
by Tonya Kappes

Looking for cool cozy mysteries for hot summer days?
Then you'll love our collection of stories in this purr-fectly paw-some cozy boxed set from twelve USA Today, Wall Street Journal, and Amazon best-selling authors.
Help us Help our Australian animal friends as you enjoy hours of fun sniffing out clues on sandy beaches, in shimmering waterways, at mountain top resorts, and small-town celebrations.
These cozy, friendly stories are full of wily sleuths, cagey plots, and un-fur-gettable tails!
Fetch your copy now to get these furr-ocious cozy mysteries at a bargain price and woof it up with us as we go to the rescue down under!
They're howlingly great reads!
All proceeds support the Wildlife Victoria charity rescuing wildlife affected by the bush fires in Australia.
INCLUDED IN THIS LIMITED EDITION BOX SET:

Judith Lucci: The Most Majestic Crime of the Year: Missing Masterpiece - When the pour is just too perfect.
Colleen Mooney: Politicians, Potholes and Pralines - There's no place like New Orleans to have a good crime!
Anna Celeste Burke: A Tango Before Dying A Georgie Shaw Cozy Mystery - When trouble waltzes in, it's not long before Georgie Shaw and Detective Jack Wheeler step in when a famous ballroom dance champion is murdered.
Dianne Harman: Murder in Cottonwood Springs - Sheriff Rich got the call every lawman dreads – a relative's murder. And it's even worse when it's your sister.
Sam Cheever: Bayou Bubba - Where Miss Chance meets Cal Amity.
Amy Vansant: Pineapple Lies - If Janet Evanovich and the Golden Girls had a baby, it would be the Pineapple Port series!
Fiona Quinn: Mine - A sleepy town in southwest Virginia wakes up to a nightmare of untimely deaths.
Cindy Bell A Tough Case to Crack - It is a race against the clock to solve a murder so Nuts about Nuts can open on time.
J A Whiting: Reversal of Fortune: A Claire Rollins Mystery - Will Claire's paranormal intuition help solve the case or will her skills fail her when she needs them the most?
Kathi Daley: A Cat in the Attic: The Curse of Hollister House - How is one to start again after losing the one thing that speaks to your heart and fuels your passion?
Summer Prescott: Spellstruck - If you liked Bewitched and I Dream of Jeannie, you're going to love Spellstruck. Pirate, the talking cat, will charm your socks off!
Tonya Kappes: Stamped Out - More than mail is being delivered...there's a murder 'bout to happen!