Stop Overthinking And Get Your Act Together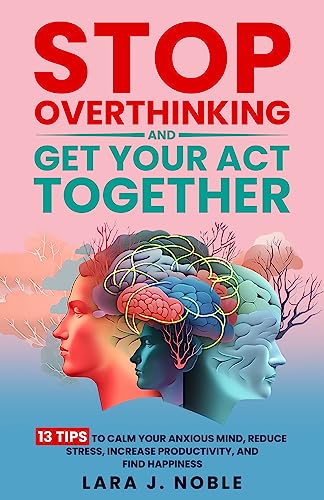 Stop Overthinking And Get Your Act Together
by Lara J. Noble

Discover How to Escape the Overthinking Trap, Find Inner Peace, and Unlock a World of Possibilities

Are you tired of being a prisoner of your own mind, constantly plagued by overthinking and never living in the present moment?

Are you longing for a life filled with peace, balance, and contentment, where anxiety no longer controls every aspect of your life?

The fact is overthinking is not a productive use of your time, and it doesn't lead to better outcomes.

The opposite is true – overthinking reduces your chances of being successful and is blocking your path to living your best life.

It's even worse than that, overthinking and anxiety are sucking the joy out of your life and there just aren't any compensating benefits.

That's no way to live.

The good news is you can change from being an anxiety-driven overthinker into a well-balanced and positive person and live a fulfilled and happy life.

A life where you have clarity, a sense of purpose, and know how to harness your energy to be super-efficient without forgetting to practice self-care.

In this guide, you will discover:
The secrets to stopping overthinking and reclaiming control of your mind, allowing you to make confident decisions and experience a newfound sense of clarity and peace
How to identify and overcome the danger of negative thoughts, empowering yourself to break free from self-sabotage and cultivate a positive mindset that fuels your success
Powerful meditation and mindfulness techniques can be easily incorporated into your daily routine, providing you with a sanctuary of calmness and resilience in the face of life's challenges
How to let go of perfectionism and embrace your authentic self – enjoy the freedom to pursue your dreams without the burden of unrealistic expectations
How to increase your productivity through effective time management strategies, helping you prioritize tasks, stop procrastinating, and achieve more in less time
How to master the art of goal setting to turn your dreams into reality, even if you've struggled with achieving your goals in the past
How to navigate difficult conversations, resolve conflicts, and build stronger relationships both personally and professionally

And much more.

Even if you've been trapped in a cycle of overthinking and negative thoughts for years, you can overcome deep-rooted emotions and behaviors and transform your life into one of positive achievement and healthy relationships.

It's never too late to make a change for the better and live your best life…A life where you have inner peace, less stress, and more productivity.

It's easier than you think, and you'll feel happier and calmer in less time than you can imagine.

Silence the noise in your mind, unlock a life of serenity, and embark on a journey of genuine happiness.